Creators' Case Study – Eugene Soh "Kitten Rescue"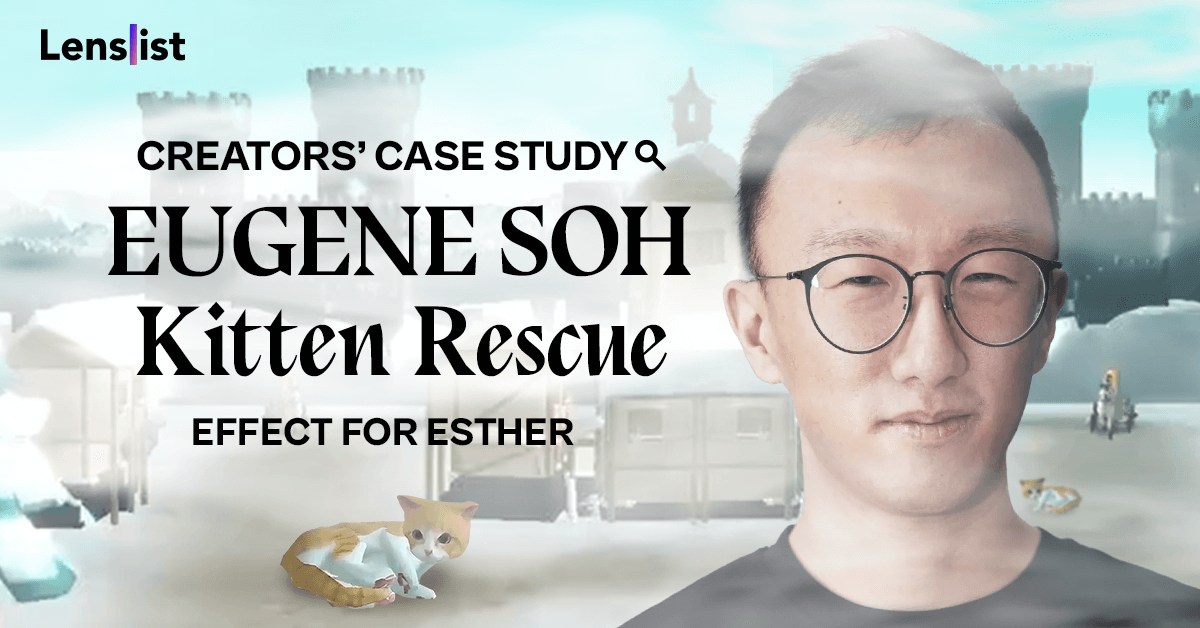 Let's be honest, being an artist and growing in the AR world can be sometimes very challenging. 💪 We believe that sharing this process with others can be extremely helpful and inspiring. ✨ That's why we have prepared another episode of our Creators' Case Study series! 💜
Meet Eugene Soh – a talented AR Creator – who agreed to share with us the ins and outs of creating one of his Effects. 🐱❄️ Kitten Rescue is an adorable interactive game developed for a worthy cause, with a young brave heroine in mind. 🥹 Don't wait any longer and discover this touching story, enjoy! 🚀
⭐️⭐️⭐️
What was the idea for creating this Effect, and how did you come up with it?
James from @ladinabattle first texted me on IG about creating a new game for Esther. He told me her story – she is 5 years old and has DIPG, a type of brain cancer that will eventually take away almost all mobility. She can still move right now but as it progresses she most likely will only be able to move her head. It made me really sad reading about it so I accepted the challenge even though I already had a lot on my plate.
The challenge was to create a game where she is a princess riding a carriage saving kittens from the snow – and because the risk of her eventually being paralyzed from the shoulders down is high, the game interaction had to be limited to head movements only.
I wanted to recreate the sense of exploration, where Esther could discover a little world – by tilting her head, she could be maneuvering and driving around. The actual sense of driving around became the main mechanic that I wanted to focus on. I didn't want to make an "endless runner" game where the road doesn't end, it needed to be a little world where the user can drive around wherever they want.
Do you draft a plan of how you want to develop an Effect, could you tell us about the preparation of a workflow?
I typically draft plans only in my head, and maybe discuss the idea with my wife, and dive straight into development. Also, James already had a little music video featuring the princesses and kittens and the winter environment which was a good reference/benchmark to start off.
Could you describe to us the steps of how you create an Effect?
I didn't use any templates. I did recycle the driving mechanics of another game I made in April this year, which now settles the main game mechanics. Otherwise, I would be spending a lot of time just building and experimenting with the main game mechanics, making sure it feels right.
I have also used AI to generate some of the cat images. If you watch the video below you can see the initial prototypes. After that, I focused a lot on the princess and carriage – it changed a couple times to this final look that feels right to me.
Does it meet your expectations?
It did meet my expectations in the end, and I'm really happy with it. I hope it brings Esther some joy!
⭐️⭐️⭐️
We would like to say a big THANK YOU to Eugene for sharing insights about the project with us! We are extremely grateful for having such a talented and engaged Community! ✨💜
We hope that you enjoyed this inspiring Case Study. 💜 If you want to share your AR experiences with others and be featured on our blog don't hesitate to let us know! 😏 Stay tuned for more! 🚀