AR Talk | Dario Marturano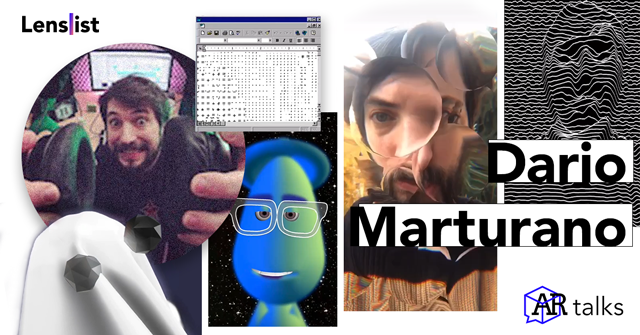 🌙✨ Turn off the lights, play some electronic music, and travel to a world of colorful visuals and mind-blowing sounds! This vibe will be perfect for reading our next AR Talk – featuring Dario Marturano – an awesome, multidisciplinary artist from Italy 👾🔥 His art and projects are all about music, lights, and technology – an amazing combo with just as amazing results! Find out how he managed to implement it into AR and dive into his magical Effects ✨😎👇
Could you tell us more about your journey in music and art – from the very beginning to how it developed over time?
My journey in music and art started when I was very young. I started playing classical guitar when I was 9 and I formed a couple of bands in my adolescence. My current electronic music project "Holograph" was born in 2015, and a year after an agency asked me to work for an interactive installation during Milan Design Week, at that moment I thought to merge music and digital-physical arts.
How did you manage to turn your passions and ideas into amazing masterpieces?
Thank you for calling my work an "amazing masterpiece". It's a natural process, usually, I have weird ideas and I try to realize them by putting into practice what I know and learning what I don't know, sometimes it works and something beautiful comes to light.
Music for the future – your vision that combines music, technology, and art. What was your inspiration for such a project and is there any important message you wanted to deliver to the world and the community through this?
My first inspirations were artists like Deadmau5, Ikeda, or Porter Robinson that combined music and visual effects.
Unfortunately, I don't have an important message to deliver to the world but I'm pleasantly impressed that in the last few years the digital arts are equal to the traditional ones.
I think if Leonardo da Vinci was born in the 20th century he would be a digital artist or Bach an electronic musician.
We have seen you design and build your own lights on Instagram – the whole process seems pretty complicated, but the final result definitely looks awesome. Could you tell us more about illumination art? What is your favorite piece?
I think The lights I built were the most complicated project I've worked on, I spent an entire summer making them. They are made by digital cold white leds only, controlled with a Raspberry Pi 2, and programmed in C++.
When it comes to creating AR filters – are you enjoying this experience so far? Which part was the hardest? Did you find any similarities with the process of creating music?
When I started making filters I found a lot of similarities with my previous background. In music everything works with inputs, outputs, splits, and cables like patch, my coding knowledge helps me a lot for logic and scripting. The hardest part was the 3D world, I never played with it before. I learned to model 3D, understand what a UV map is, normals and everything related to it.
Throughout your whole experience, you have been creating music and art side by side with amazing people in various venues – which artists or events will you never forget? What is your most memorable experience on or off stage?
The event I'll never forget was a concert at Fabrique, a big venue in Milan. I played my music in front of more than 3 thousand people, it was amazing.
Of course I met a lot of beautiful people off stage too, it's hard to choose my favorite one, but I hope the best moments are yet to come.
What is your take on the subject of combining AR with music, concerts, or festivals – do you think we will be seeing more and more of this kind of projects in the future?
In my little I used AR a couple of times to promote my songs, for example, I made an Instagram filter inspired by the cover album or an AR preview, a week before the release of a new song, only playable framing a murales in my actual city. More than a year ago I made a VR live show where I play inside a 3D space. I think in the future AR, but also VR and a lot of similar technologies will be mixed with the world of music that has always been very receptive to new art forms.
What about you? What kind of experiences would you like to see or create one day?
In the future I want to create concerts/performances more immersive as possible, using led walls, video mapping or why not, holograms too.
Of course, in the immediate future, the priority will be to write new music for my upcoming album.