10 AR Filters' Creators You Should Follow | November 2021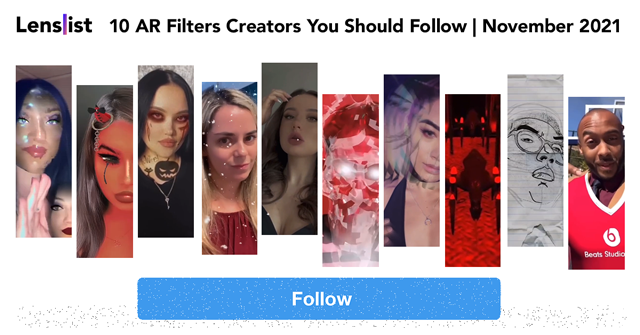 Hi creators!
Let's start this week with full power and a new dose of creativity 💪🏼 Looking for more awesome Creators to inspire you? Say no more! 😎
Let us present the November selection of 10 AR Creators you should absolutely follow ✨🤩 Find out what stories they have to share and let's dive straight into their amazing ARt 🙌🏻💫 Try out all the filters and feel inspired even more!
Letizia Egaddi

@aida.creator
Aida is a digital creator from Italy who works with trendy Instagram filters and makes custom GIFs and stickers for stories on Instagram and many other apps 👀💛 She will help you create your own artistic story – check out her YouTube channel to find awesome tutorials! ✌🏻
It's exactly a year since I discovered and started creating effects for Instagram and Facebook with Spark AR!

I've always thought that digital technologies would enhance our life experience and help us in various ways so I am strongly optimistic about the future and innovations!

I am proud to be a small part of this process, working and studying how to entertain, educate, support people and do more interactive marketing and communication through AR!

Till a couple of months ago I was mostly oriented toward natural makeup effects, characters and simple branded filters for small businesses, but I am very excited to move toward more immersive and world-oriented effects!

– Letizia Egaddi
More Filters Instagram Portfolio
Camilo Adams

@mady.gnome
Camilo Adams is a multimedia and visual designer creating for example awesome abstract and geometric 3D art and cyberpunk neon animations 👾 With his artistic skills, he now has added some cool AR filters to his portfolio 🕸🤩
I started animating augmented reality stories for children, then I discovered the world of filters that Instagram offers. Now I am embarked on a journey in which I am in constant collaboration with my friend Fabian and enjoying every second of it. Currently, we set monthly goals in order to achieve the best immersive experiences we can do using the power of AR. We like allowing the user to interact with each scenario that we create and insert a little narrative of their own. Our last experience with AR was recreating a little bit of Lovecraft's story "the hounds of tindalos", whose results made us feel proud. This month we plan to release 3 more filters, this time with a higher level of complexity. This time we will focus on immersive storytelling.

– Camilo Adams
More Filters Instagram Portfolio
Rafael Excel

@rafael.xl
Rafael Excel is an Instagram AR filter creator from Malang, Indonesia 💫 Apart from digital art, his enthusiasm for fashion can be seen in his clothing brand 'Resume' 🤩👕👖 His filters are definitely something else!
Hello! I'm Rafael Excel, an Indonesian based Instagram Filter Creator. In 2020 I graduated from Ma Chung University, in distinction to a major in English Letters. I'm currently working mainly as a Graphic Designer for now. That's a bit unrelatable, but life is always so random, yet I love it so far. Indeed, I have loved art since I was a child, so I'm not surprised to be back on track.

My interest in Augmented Reality actually began a long time ago. when I was a kid watching an anime called "Yu Gi Oh" and wondering if in reality, those playing cards can really bring out monsters somehow. Then in around 2018 or 2019, I saw someone created a 'Flappy Bird' kind of filter game that went viral on Instagram. There, I started to learn about Spark AR and started creating my first filters. I learn all the basics mainly from Spark AR's guide tutorial, YouTube (thanks to Josh Beckwith, Catalyst, Luke Hurd, and Eddy Adams), and messing around with Spark AR's finished project samples and templates. As of today, I have created over 100+ filters, either for me or my clients. I don't have any specific filter style, but I always love to include unique artistic elements in my creation. I got my Inspirations mostly from Pinterest and movies, but often those ideas suddenly came to my head while I was busy doing stuff.

I'm still having a lot of ideas that I haven't realized yet into filters because most of them failed in the process and I couldn't figure out the solution. But experiments make perfect. I'm planning to master 3d modelling more to upgrade my skill to support me in the creation of making filters. With the growth of Spark AR, I'm going to continue my exploration of the world of Augmented Reality and keep creating.

– Rafael Excel
Margianna Katsigianni

@__margie__
Margianna Katsigianni is a digital creator based in Greece. After majoring in business she decided to experiment more with AR and since then she has made many cool AR filters 🥳 "Still learning and creating" – that's the spirit! 🚀✨
Hi! I am Margianna from Greece. Almost two years ago I started wondering what if I could turn my photo edits into Instagram filters. Just like that I searched and learned from tutorials how to build my first filters. Since then I am constantly trying to learn and expand my knowledge upon Augmented Reality.

I am studying Business Administration and it's a dream of mine to someday turn my passion for AR into a full-time job. I hope to bring a more artistic way of expression through AR as I have wanted to combine art and technology since I was a teenager.

My influences derive from music, cover albums, Pinterest mood boards I create, and the trends that are circulating.

Currently, I am starting to learn more skills such as 3D and animation to build more complex filters and hoping to get certified through the new Spark AR Pro course.

Lenslist has been a great motivation for all us creators to keep trying, discovering new creators and getting inspired.

– Margianna Katsigianni
More Filters Instagram Portfolio
Tatiana Past

@_eliza.art
Eliza creates AR filters on Instagram while focusing mostly on beauty and makeup – and the results are breathtaking! 💋😇 Her rich portfolio is filled with over 60 filters which you can all unlock after subscribing 🙋🏼‍♀️
I'm from Russia, I live in Moscow. My journey to AR filters started in 2020. I was inspired by the work of some creators, especially makeup filters, and wanted to create the same. I like to create beauty makeup filters, fairytale characters and fantasy. Now I am studying 3d modeling and my dream is to become a 3d designer in the future and create even more beautiful filters.

– Tatiana Past
Daria Biller

@daryabiller
Daria Biller is not only a digital creator but also a blogger and a Social Media Marketing specialist 😎👩‍💻 Through designing custom filters she helps out clients with promoting and enhancing their social media accounts 💜 Her AR portfolio is packed with many cute and aesthetic effects!
AR filters changed my life, thanks to them I started freelancing, collaborated with brands, started developing Instagram and gained an excellent audience – which I am incredibly happy about, I love filters in Instagram 🤍AR filters changed my life, thanks to them I started freelancing, collaborated with brands, started developing Instagram and gained an excellent audience – which I am incredibly happy about, I love filters in Instagram 🤍

– Daria Biller
More Filters Instagram Portfolio
Gede Wira

@digitalartbyw
With over 100 filters Gede Wira can definitely be called an experienced digital creator working with both AR and XR 🚀🚀 He's also an AR developer who will assist others in increasing impressions and gaining more views on social media platforms. The artistic experience he has is huge and it only takes one look at his filters to see this ✨👀
In my opinion, we see more users using AR for social media daily. I noticed this early I wanted to throw some of my own ideas into an Instagram filter. Some of the filters I've made like Beauty filter, Game and many more have received overwhelming feedback so that is what keeps me going. It inspires me to keep designing and exploring more.

In the future, I think AR will be very important for branding whether it's for a personal or a company matter as digital marketing. Apart from that, I wanted to make AR a business that I could advertise.

– Gede Wira
More Filters Instagram Portfolio
gowaaaofficial

@gowaaaofficial
GOWAAA is a Singapore-based art and technology collective concentrating on AR design and development on both Instagram and Facebook 🎨📱They have worked with brands internationally across a wide range of industries to grow their brand experience with immersive Instagram AR filters 🥳 They also collaborated with local Singaporean artists to create AR art using elements from their artwork 👏🏻
Without the wholesome Spark AR community and great support from the Spark AR team, GOWAAA would never exist and we are always grateful for that.

Our plan for the future is simple and ambitious, to create AR experiences that will make you GOWAAA regardless of brands, Arts, or any types of AR!

– gowaaaofficial
More Filters Instagram Website
Paul Raffaealli

@therafterman
Paul Raffaelli is a London-based creative content strategist and team leader with over 15 years of experience 😎 He creates AR filters and has a huge amount of knowledge and expertise! 🤝 His goal is to share smart ideas with a positive purpose 😇
London-based branded AR Filter creator and founder of www.gloam.agency. Produced over 100 Instagram effects for brands including the NBA, Beats by Dre, Sony Music, Parlophone Records and various charities. The best AR puts the user front & centre with a super fun and creative interaction. View latest AR brand work including the NBA & Beats by Dre 'Shooting Challenge' at www.gloam.agency.

– Paul Raffaealli
More Filters Instagram Website
Anisha Dongurak

@a.d.vladimirovna
A personal blogger from Novosibirsk, Russia with a huge selection of quality AR filters 🌟 She helps others build a captivating portfolio and attract customers and followers to your profile – everything with the use of AR 🙌🏻
Hello everyone. My name is Anai-Khaak. I am from the Republic of Tuva, but I have been living and working in Novosibirsk for several years. I am an economist by education.

At the moment I am developing my blog on Instagram, I also manage and promote other people's accounts and am an expert in creating AR filters.

I started creating masks at the beginning of 2020, but seriously started practicing a little more than six months ago.

To improve my skills, I took many courses.

For the first months I hardly slept at night, because this case turned out to be so fascinating and interesting. And I am very glad that I have found for myself an exciting business that brings great pleasure. Now I work with brands, major bloggers and many interesting people.

I make filters from simple to 3D. But I like to do mostly beauty masks and random masks. In the future, I plan to dive into the 3D world to create more complex effects.

– Anisha Dongurak