10 AR Filters' Creators You Should Follow | June 2021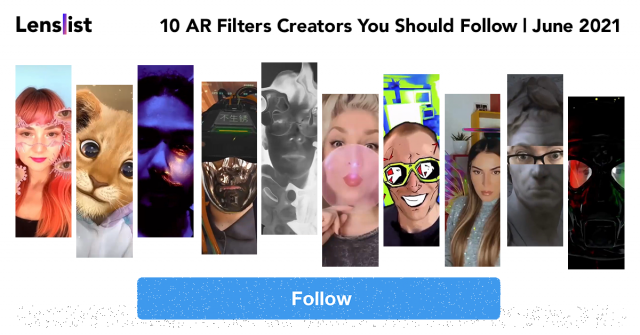 We present to you another 10 incredible Instagram AR filters' Creators. We're grateful for their crafty AR filters, their engagement in the community and the quotes about their AR journey that they shared with us 👇✨ Enjoy!
Ines Marzat

@ines.alpha
Ines alpha is a 3D artist based in Paris who used to work as an art director in beauty and luxury advertising. She creates 3D digital makeup as well enchanted versions of reality, encouraging a creative approach to make up and self approach.
Hi I'm ines alpha, I'm a digital artist based in Paris and I've specialized in what I've called 3D makeup which is makeup but using digital softwares 🙂 I started doing 3D makeup a little by accident! I was learning 3D by myself, experimenting with it by adding iridescent blobs and cute creatures in video clips. I was at the time working at an advertising company as an art director in fashion and beauty. I was already obsessed by makeup and the possibilities of self transformation. One day I just decided to mix these two passions, 3D and makeup 🙂 and here I am! I started to augment reality and make it more fantastic using post production techniques. First because that's the only thing I knew how to do, and second because I wanted my visuals to look like it is real, like the 3D elements added in the scene could be seen with our own eyes. I wanted people to feel that my reality could be a possible near future. But the more I was creating digital makeup looks, the more I needed to find a way for people to play with them. I needed to democratize my work. How can my work be makeup if no one can try it on?? When Lens Studio came out and later on Spark AR, this idea became obvious. 3D makeup became a reality.

I consider my work to be whimsical, forward thinking and non-binary. My work is inspired by artists and performers that like to play with their appearance and create otherworldly humans like Hungry, Ryan Burke, Madroni Redclock or James T merry. But my main obsession will always be sea creatures, mainly the Nudibranchs 🙂 the way they move, their cute shapes, the intense colors… that's something difficult to reproduce in the physical world out of the water ! That's where using digital tools become very handful, because you can do anything, you can design the reality you want.

– Ines Marzat
More Filters Instagram Website
Elya Boz-Ali

@elya.boz
Being a former 2D games artist, Elya is now a freelancer AR Creator and offers her filters on Gumroad. She is beloved by parents thanks to her beatiful depictions of cartoon characters.
Hi! My name is Elya and I started creating AR effects in fall 2019. Before that, I worked as a 2D artist in the gaming industry for 3 years. I painted almost everything: interface, locations, characters, etc. These were quite cute and cartoonish games. But once on Instagram I came across a story of one girl, in it she showed a beautiful effect, and then she said that she made it herself! I was very surprised then and was eager to try to make my own effect! Actually, this is how it all started 🙂

For more than six months creating effects was just a hobby for me. I did this in my free time from the office. But over time, I began to receive orders for creating effects, and I decided to leave the office and start spending more time on it, because I really liked it! I was able to find my style not immediately, but only after more than a year. Now I mainly create characters, these are either animals (+ nature), or heroes of films or cartoons 🙂 I have adored animals since I was a kid, as well as many characters from Pixar, Disney and Dreamworks! And giving people the opportunity to be in the role of their favorite character and experience the joy! I especially love it when children are happy about it. Sometimes parents of young children write to me and thank me for these characters, and they tell me stories about how they play with their children with my effects, or just calm the child with the help of them if he is crying. It really touches me and inspires me to new works 🙂

– Elya Boz-Ali
More Filters Instagram Website
Naveen Upadhyay

@naaaviiii
'I like it when I am in the intersection of technology and art.' – this sentence seems to describe Naveen perfectly, as his work as AR Creator feels like a constant experimentation on this intersection. Check out his Gumroad and his tutorials!
My name is Naveen and I come from a small town in the west corner of lovely and warm Rajasthan, India.

Looking back when I first started, I participated in a Hackathon on Spark AR in 2019 and made a little interpreter for sign language for deaf and dumb people. I never knew what an IG filter was back then. 6 months passed and I came across a color filter that a friend was using to record while we were driving. I was astonished by the enhanced colors which were rendered live on the screen. Since then my mind has been full of possibilities and it hasn't stopped since then.

I like to work on Spark AR as I can pursue my interest in programming and designing solutions to the ideas that my mind would take as a problem unless implemented. Most of my work is around procedural programming, Shader Code Asset and manipulating UVs. In the learning process in AR space, I would like to see myself combining ML and AR to plethora of possibilities in the future.

Sources of inspiration : Spark AR community, YouTube, Spark AR documentation, Eddy Adams, ShaderToy, Lenslist , Book of shaders

– Naveen Upadhyay
More Filters Instagram Website
Gianpaolo Rosa

@gianpaolorosa
Gianpaolo is an Italian mixed reality creative technologist specializing in AR for all platforms. His 3D skillset combined with huge amounts of creativity resulted in more than a few exciting filters so far.
I'm Gianpaolo Rosa, from a small country in Italy, I grew up with the only salvation that allowed me to escape from reality: the internet, and technology that gave me the opportunity to express myself online. Now, I'm a digital content creator, starting with classical design, moving in every graphic sector, until I discovered Augmented Reality.

My core business is creativity, without it I couldn't live. Ideas are fundamental.

AR definitely changed my life, opened up the possibility to match my skills and creativity for expand the real world. The work I'm most proud of is a target tracking that allows, by framing the metro ticket, to see the map with the stations in real time. That's the perfect representation of how I believe Augmented Reality should by used: facilitate everyday real life through technology. This is my goal, and I look forward to the AR Glasses that will be soon on the market, and will change the game. I'm inspired by everything around me, and I put everything within my "art".

I think we live in really interesting times, so, enjoy it.

– Gianpaolo Rosa
More Filters Instagram Website
Tabitha Swanson

@tabithaswanson_
Tabitha is a multi-disciplinary Canadian designer based in Berlin who has lots of experience on 3D, AR and XR projects for clients and who recently engaged in NFTs. Being also a teacher, she surely share a lot of knowledge in her interviews.
My name is Tabitha Swanson and I'm a Berlin-based multi-disciplinary designer and creative technologist. I started making filters at the very tail end of the Beta program and have worked on filters for clients such as: Nike, Adidas, Reebok, Origins, Sega, Vans, Vogue Germany, Zalando, KemmlerKemmler, ABC Dinamo, and more.

My personal filter work is often much more abstract and ethereal than filters I make for clients. Almost all work I make for myself is rather free-flowing from emotion and touching at The Hidden Things, as I see them.

I was recently included in the AR creative line-up for @mmmad.art's festival in Madrid and CADAF's AR line-up for their Paris Art Week.

– Tabitha Swanson
More Filters Instagram Website
Bianca Garutti

@biancagarutti
Bianca is a natural artists and entrepreneur who started as a professional dancer and teacher. During the pandemic and with an already impressive portfolio of AR effects as well as clients, she decided to go all-in on AR.
2 years ago I've got curious about Instagram effects, so I subscribed to Spark AR Instagram Beta, started to learn, create, I fell in love with AR, and now creating is my main job!

What excites me most is looking for ways to make my effects look more and more realistic. Filters have changed my life and I want to keep learning and sharing AR experiences.

– Bianca Garutti
More Filters Instagram Website
Dmitry Susidko

@susidko_
Dmitry is an AR Creator based in Kyiv, Ukraine with an experience in product and interior design. He creates filters for brands, musicians and influencers. Also, check out his gumroad.
I saw that boom of IG filters and creators in 2019, downloaded Spark AR, and spent 6 months learning to create the filter I wanted. Two years later – now it's not just a hobby. In filters, I grow as an artist and earn money bringing joy to people.

As a creator, I'm still learning and defining my style. For inspiration and references, I usually pick media culture and my life impressions. I like to make AR experiences with the user as the main character, filters for music artists and fashion brands, I'm planning to grow in these directions. If you're a creator and wanna make collab – let me know!

– Dmitry Susidko
More Filters Instagram Website
Antonela Binaj

@antonela.binaj
Antonela is an Albanian 3D artist, AR Creator and a light designer in a Kuju Studio, a creative production company based in Tirana and co-founded by her.
Since my childhood I have been very passionate about Arts and Technology , and I've never been able to pick a favorite between the two. Growing up I became more and more interested into Computer Generated Imagery and taught myself different 2D and 3D softwares with the help of online courses and tutorials. After finishing my University studies , together with my partner, we co-founded Kuju Studio , a multimedia and immersive experiences company, bringing innovation and interactivity through projection mapping, laser shows, stage design and lighting effects.

But as the pandemic came up , I felt I had to fill my day with activities I am passionate about, so i jumped into Augmented Reality and studied full time during the three-month quarantine. Although I have to admit, my background helped me a lot!

At the moment, AR is my focus, since it offers infinite possibilities and I can express myself on so many levels. I will continue to create Art pieces and experiences in order to make a positive impact on people's lives every day.

In the future, I look forward to collaborate and work with big international brands and share my vision with a worldwide audience.

– Antonela Binaj
More Filters Instagram Website
Paul Brown

@menokillah3d
Paul Brown aka "Menokillah3D" is a 3D generalist with a background in Motion Graphics for television, product and medical visualization, and currently teaches at CENTRO college in Mexico City. He studied Graphic Design and worked at advertising agencies before founding his own studio, where he works either solo or brings in multidisciplinary talent for more complex projects.
After studying Coding for Animation at CENTRO, he began experimenting with XR, and was accepted in the Spark AR studio beta program, which allowed him to start creating filters for Instagram. He currently collaborates with influencers, agencies and brands, creating AR filters.
Working as a 3D Generalist I get to jump between different types of work, like animation, design and 3D modeling. At the same time, that's exactly what makes AR so special to me: I get to combine all the things I love to work on, plus have people interact and have fun at the same time. People get really excited when they find a good filter, whether it makes them look better or change their style, make a statement or just to have fun and play around. Instagram is the perfect medium for AR, as millions of people use it every day and get to experience what we create on a regular basis.

I enjoy creating filters that are simple, but can produce emotion. I feel that people are fond of having options when it comes to filters, so I try to comply in that sense, but at the same time I like to keep the interaction simple. AR as a medium is amazing, its similar to making a video game in terms of assets, code and logic, but it certainly feels a lot more personal.

My inspiration comes from pop culture, music and films, and…. I have a list of almost 40 filters I want to create! This past year has been quite complex, but I feel like I'm getting to a more stable point that will allow me to put out more personal work, so stay tuned!

– Paul Brown
More Filters Instagram Website
Junji Suzuki

@bma_japan
Junji is a freelance AR Creator based in Yokohama, Japan who has a background in web design and motion graphics. Being with Spark AR from its beginning, he has lots of experience in working with clients.
I am a freelance creator of AR filters in Yokohama, Japan. I won the Facebook AR camera hackathon held in Japan, and was chosen as the first Japanese beta tester for Instagram AR filters.

Before creating AR filters, I was working in web design, CG modeling, and motion graphics video. I've released more than 100 filters and have more than 40 client works under my belt. It's a pity that I haven't been able to make AR filters for my private work much lately, as I've been busy with client work.

My inspirations for creating AR filters are movies, games, anime, and comedy TV shows. I don't have advanced technology, but I always want to create filters that entertain people.

– Junji Suzuki