8 Snapchat Lens Creators You Should Know | April 2021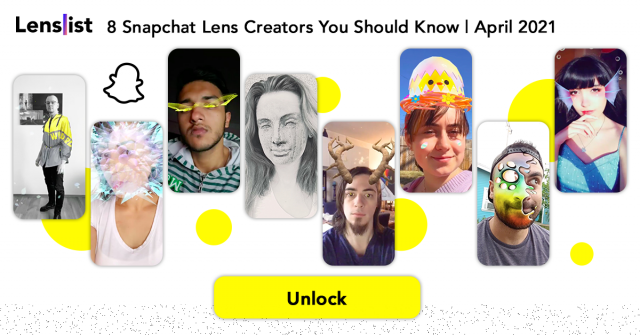 Hi Lenslisters! 👋 Today we come to you with yet another amazing 8, introducing you to some of the coolest Snapchat Lens Creators we follow. Find out more about their background, style and inspirations and explore their Lenses ✨👇
Egyda _DigitalThing
Egidijus is a 3D modeller and AR Creator from Lithuania. His projects often include digital wearables, which stems from his background in fashion, but he also creates experiences focused on storytelling and dystopian aesthetics, like for example his world Lenses series that ended up a catalyst for a futuristic worlds-colliding narrative called Stories from Within.
My background is in fashion design. Before my digital transition, I worked in fashion houses in Lithuania and Iceland. But I always was drawn into digital space. So naturally, I started experimenting with 3d modeling and creating real-time scenes and my first AR experiences in Unity. When I found that Snapchat released Lens Studio I was so excited that I created the first Lens a few hours after its release. It was love at first sight and it stays my main go-to software to create AR experiences to this day. I'm very excited about 3d body-tracking technology Lens Studio introduced recently. I am planning to create more digital fashion pieces and reimagine what fashion can be and look like in AR space.

I now work as an AR developer at GoSpooky, a rapidly growing agency in Amsterdam. I am so lucky to work with such an amazing and crazy talented team where we push AR limits with each new project.

My personal work and style are still in development, but dystopian and comic book vibes are recurring themes in my work so I think it will take its final shape eventually.

The most relevant thing right now? Fictional storytelling through AR and NFT's. I am working on creating a dystopian comic-book-style world that will be revealed in a form of bite-sized episodes with its own little narratives and collectibles.
– Egidijus Uckuronis
Katrina Iosia
Katrina is a digital artist from New Zealand, who keeps surprising us with always more sophisticated AR sculptures, highly advanced 3D models and textures, bringing art from the galleries to our surroundings.
My name is Katrina Iosia, I am a Niuean multi-disciplined artist, born and raised in Auckland, New Zealand. I come from a materiality-based background that spans from painting, printmaking, and sculpture, I am now sculpting within the mediums of VR and AR. As an Official Lens Creator with Snapchat, I've had a lot of fun experimenting and integrating my sculptural objects into the digital ethos. When I started using Lens studio, I reimagined my textural paintings, implementing them as materials for my designs, keeping them organic, playful, and fun. I have always been fascinated by sensory and developing experiences, to explore the wider context of sculpture, taking traditional forms out of the social norms and restrictions of art galleries and museums. What I love about AR is that it provides ephemerality, the opportunity to project a digital presence hijacking, and claiming creative spaces, and making my own exhibitions. I have a plethora of AR sculptures on Snapchat that are ready to be used, so I encourage Snapchatters to explore the spaces there and interact with them. You can follow the continuous evolution of my work here:
– Katrina Iosia
Atit Kharel
Atit is a super-skilled AR Creator from Nepal and a part of a digital agency Kerkar Creations. We were very impressed with his ML translating Lenses he presented during Lens Fest last year. He also made a few AR games and 3D masks for Snapchat, proving how versatile and his projects and interests are.
Working on AR has been an amazing and exciting experience for me and I've got to learn a lot throughout the journey. Combination of AR and ML is what excites me the most. I feel like with ML and AR, the possibility of what you can create is endless. Currently I've been trying out new ML lenses and a few are on the line to be published soon.
– Atit Kharel
Rhonda
Rhonda is a multidisciplinary artist, who in her AR Lenses presents us a very distinct, cartoon-like style. She often uses colorful 2D textures, providing Snapchatters with fun and playful experiences. Recently, she also made a few Style Transfer ML Lenses, inviting us into her technicolor world.
I actually stumbled into AR completely by accident. I come from an art background and work in tech, and in early 2018 a friend from the art world recognized that a new tool she'd been playing with, Lens Studio, was the intersection of those interests. She bugged me for a couple of weeks to download it and as soon as I started, I was hooked!

My favorite thing about making Lenses is seeing what other people do with them. It's incredible to put my art out into the world to a massive audience that I could never reach on my own, and then see people in turn use my work as a basis for their own creativity.

Through my involvement with Lens Studio and the Official Lens Creator program, I have met the most amazing community, and I've had opportunities come my way that I never would have dreamed possible!
– Rhonda
Filip Cubrilo
Filip is a versatile AR/VR Creator from Norway. His projects usually involve high-quality 3D models. In his spare time, he also paints, mixing the digital with physical, material arts in his portfolio.
My career took me through many different lines of work, and back in 2018 I started working in a small company that specialized in VR simulations and AR app development, and as a small team, multitasking is kind of expected. So as a 3D-artist and animator my boss thought that I could create Lenses for our clients, and one thing led to another and suddenly my first Lens client was Xbox.

It was exciting and nerve wracking at the same time, I was still new to Lens Studio and unsure about the project, but in the end clients were happy and I was happy with the work. Unfortunately the Lens was never officially released, when the pandemic started, but experience taught me much and gave me the opportunity to become the Official Lens Creator for Snapchat.

I like creating my Lenses as 3D models, but I don't have a preference on style. It depends on what I want to express and how I want to show it. My working flow is having an idea of what I want to create, then creating a simple rule that I must keep and trying to work around the rule without breaking it, so I force myself to think creatively around my project.
– Filip Cubrilo
emily <3 (Emily Envisioned)
Emily is a young AR Creator with a diverse portfolio of colorful 2D and 3D Lenses. Her projects are playful and often focused on interactiveness, putting the end-user in the center of her AR experiences.
I would say my art style is very whimsical and bold. I like big shapes, bright colors, and dream-like themes. Most of my work is inspired by cartoonish animation style and the outside world. I like taking organic shapes and concepts, especially things in nature, and transforming them into a softer, more playful version. For my most recent project, "Spring Chicken", I modeled a neon yellow baby chick inside of an easter egg. It's an animated model that hatches out of the egg on command. These adorable, interactive experiences create really memorable projects and are some of my favorite to design. I like anything that inspires lighthearted creativity, even in such a technically challenging art form.
– emily <3
More Filters Snapchat Instagram
Georgio Copter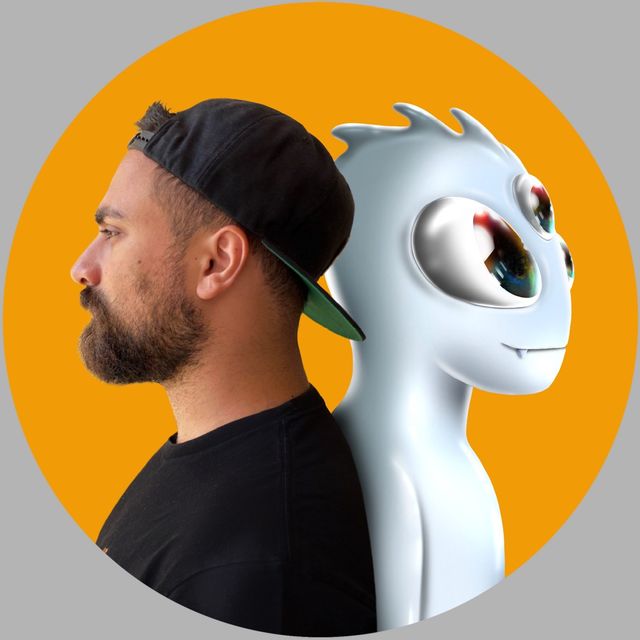 Georgio is a Lebanese Snapchat artist and influencer, known for creating characters or monsters (cute ones) and including them in his daily (and awarded!) social media presence. He also worked with multiple brands like Red Bull, Samsung and BBC.
More Filters Snapchat Instagram
marina🌸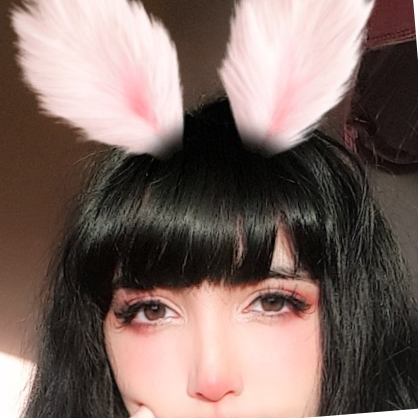 Marina is an AR developer and artist, who stuns us with ultra cute, anime-inspired Lenses, incorporating fantasy into her projects. She also specializes in beauty and make-up AR experiences.
Huge thanks to all of the Creators from our April edition! We hope that these articles will motivate and encourage you to learn, create and keep going with the amazing work you do! 💖