Encouraging Americans to #Vote with AR Filters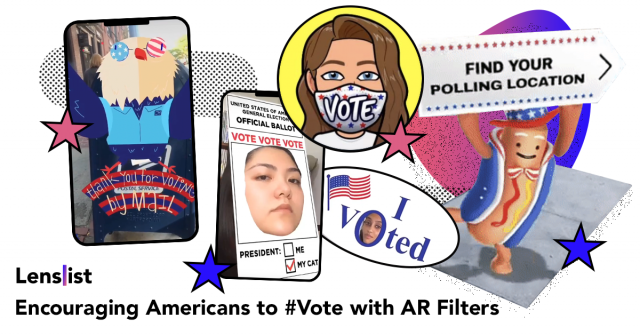 Augmented Reality in social media has been used many times now to reach the youth with important messages concerning social issues and politics. The 2020 presidential elections in the US weren't an exception. Quite the opposite – Instagram users could try dozens of AR filters encouraging people to #vote, and Snapchat made AR Lenses a crucial part of their election awareness initiative.
Snapchat Hot Dog getting youth to the polls
Snapchat has been trying to get more young Americans to vote with the Before You Vote tool that helped users find their polling locations and taught them how to vote properly. They also used a legendary Snap AR character that became viral in 2017: the Dancing Hot Dog. It was so popular that it had its own product line at Snap's store. This time, the Hot Dog was dancing wearing a patriotic costume with 'find your polling location' sign in his hands 🌭
Another brilliant Lens made for this occasion was as American as it gets, with a cool blue-and-red glasses for you as well as for the eagle on your arm, the US flag in the background and a personal call to action 🦅
Snapchat's initiative is said to help more than 1.2 million of their users to register for the elections!
Instagram AR creators working together for democracy
Among the many AR filters made for this year's election, there are a number of them that have been made by a group of amazing Spark AR creators who decided to collaborate for the sake of spreading democratic culture across Instagram. Beth Wickerson named them her 'dream team': Alexis Zerafa, Noland Chaliha, Josh Beckwith, Mitsuko Ono, Sarah Mayer, Boris Josz, Laszlo Arnould and Tomas Pietravallo.
We've asked Beth about the campaing:
I'm really proud that Bigtent Creative recognizes the political importance of expanding into platforms like Instagram, Snapchat, and TikTok. Over the past two weeks, our filters have gotten 243,169 shares, reaching tons of young people who are becoming first-time voters and, through lenses, can literally see themselves as voters. Instead of focusing on one big celebrity endorsement, Bigtent knows the most effective strategy is to provide fun lenses for everyone to share amongst friends and followers, making creative, intimate, and authentic voting messages that drives voter turnout. – Beth Wickerson
The filters were published on Bigtent Creative Instagram profile and are still available to use. Bigtent claims to "bring new engagement to politics" – and that is exactly what they did now.
'It's not a democracy if you don't vote'

Plus1Vote is a nonprofit organization dedicated to fighting for democracy that will better represent its people. As a part of their 2020 presidential election campaign to vote #plus1, they published an Instagram filter that has been used by many celebrities to spread the call, including Bella Hadid and Maxwell.
NY Times' Election Forecast

This filter available at @nytimes is the perfect example of how AR can be used to educate. It uses a Spark AR slide-like functionality that is actually available only to media profiles for educational purposes. Try it out to learn about election forecasts, how certain they are and who has a bigger chances to be the next president of the United States.
Selection of #vote AR filters
Check out AR filters selected by the Lenslist Team that were made by both brands and creators to encourage Americans to vote and go to #vote on Lenslist to see the whole collection (100+ filters!).
By brands
By the community