Spotlight: Cindy Kutikova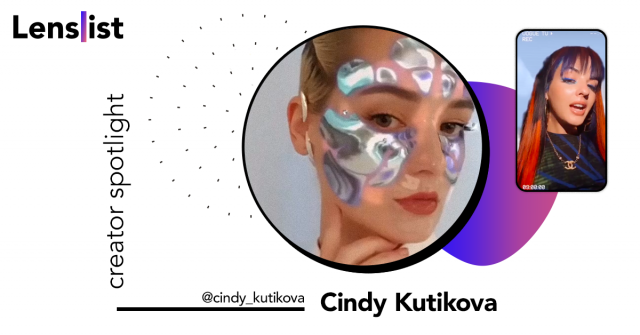 Creator from 🇨🇿 Czech Republic
Hi, Cindy! Please, tell us something about yourself.
I'm from the Czech Republic and I live in Prague. I'm currently finishing my studies at Academy of Arts, Architecture & Design in Prague where I'm studing Graphic Design & Visual Communication. I am also interested in fashion, so during my studies I also spent one year on an internship in a Fashion Design studio.
Apart of my studies, I am a freelancer. I do work on a wide range of projects. I like to combine different techniques and approaches so this brought me to the world of Augmented Reality and to the Spark AR community.
How many effects have you created so far and for which platforms?
I created around 10 effects but just 5 of them are published. One of them is for the Bold Studio which is a jewelry studio. Then I made two effects for Vogue CS and currently I am working on an effect for Douglas perfumery.
Name the best three effects you created and briefly describe them.
One of my most favourite is an effect called Expelled, made for the Bold Studio which is runned by super talented Markéta Kratochvílová. On that effect I have been working with the friend of mine, Jakub Koubek. As I'm a big fan of her work it was pleasure to create effect as a digital accessory.
Which platform for creating AR filters is your favourite and why?
Spark AR is the best one for me. It is very intuitive and it also has a big community which is really friendly and very helpful.
What in your opinion makes an AR effect successful?
Definitely unlimited possibilities of form.
If there is anything else you would like to share please do it here.
Platforms like Instagram have become powerful tools for self-expression and sharing. We live in the post-internet age, most of the presentation takes place through social networks and provides us with unlimited possibilities of added value and endless "improvement", approaching the ideal in any way. We spend so much time in front of a digital device that the identity we create online becomes an integral part of us. We add a virtual layer to our physical existence.