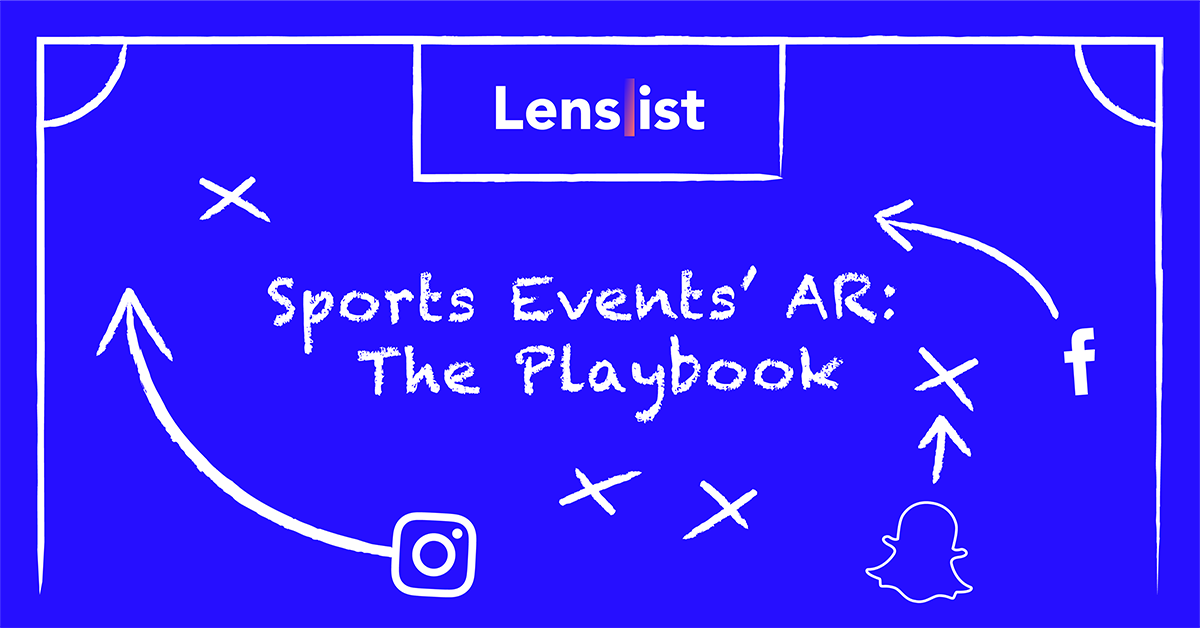 One year ago, I've started my adventure with Lenslist Blog by preparing the collection of Best Lenses of World Cup 2018. A lot of great AR effects were created for this special occasion, but frankly, it wasn't that surprising to me. Why? Because sports events are a huge part of the entertainment industry and they need adequately superior advertising. And as one of the greatest sports events – The 2020 Summer Olympics in Tokyo – is approaching very fast, it is crucial for AR creators, marketing agencies and social media managers to prepare for it properly. To help you with this, we've looked at some of the case studies, which allowed us to draw some conclusions regarding the use of Augmented Reality in sports events marketing.
FIFA World Cup 2019
These two official Snapchat Lenses made by FIFA for last year's World Cup represent two most basic kinds of AR activations: a face mask and 3D model in the rear camera. The first one turns you into Russia's World Cup mascot called Zabivaka and the other one lets you draw a path for your 3D Bitmoji to dribble on. Both of them combined entertainment and simplicity using World Cup's branding elements in such a way that they were both enjoyable for the users and valuable from the marketing standpoint.
Serena Williams Wimbledon Game
There's no need to state how important are sports games in the digital games industry. Such brands as EA or 2K provide live-like game experiences for those who love the sport. Augmented Reality will surely be the next big thing in sports gaming. Though social media AR platforms like Spark AR (Instagram & Facebook) or Snapchat Lens Studio simply can't become a platform for developing an actual game title because of their compact nature, they surely can be used to create quick, fun minigames. A year ago, Wimbledon celebrated the start of the tournament with such AR game. There, you could face Serena Williams in a tennis match, playing as your Bitmoji on a court you could place and pin on your table.
What's left to say it that the best way to engage sports fans in playing an AR game is to give them the thing that they're surely into: a competition. Fun from experiencing augmented gameplay in any form (see our article about AR games) can be easily enhanced by the thrill of participating in a contest with a prize.
Super Bowl: Doritos & Mountain Dew
Sport associations aren't the only ones to benefit from AR marketing prepared for certain events. Augmented Reality has already been used during Super Bowl, the football holiday and the most famous single-day sports event among advertisers. One of them was made by Doritos & Mountain Dew and it was alluding to the Doritos Blaze Vs. Mountain Dew Ice Super Bowl commercial (read more here). The richness of visual effects corresponds perfectly with the rest of the campaign and branding is certainly visible but not so much as to discourage users from sharing the lens with their friends.
Red Bull 111 Megawatt Event
There are brands that are so closely associated with certain teams or sports that they become somewhat a symbol or a trademark. Brands' logos on F1 bolides or soccer team's t-shirts are so familiar for fans that it creates a special opportunity for marketing purposes. When it comes to extreme sports, there is no other brand quite as associated with it and loved by its fans as Red Bull. That's why, when a Facebook user puts on a motorbike helmet covered with their iconic logo, it is not cheap and obstinate advertising, but a natural, encouraging and fun experience of seeing oneself as one of the Megawatt Enduro Race participants (see case study).
Chicago Cubs Celebration
Want to create something simple and extremely shareable? Let the fans use Augmented Reality to show their celebrations! Chicago Cubs football team did just that after winning World Series in 2016. The filter allowed all users to pop champagne bottle and celebrate their remarkable victory.
Have you checked the #Cubs @Snapchat lenses in Chicago today? ? pic.twitter.com/0DrtvAJ04H

— Chicago Cubs (@Cubs) November 3, 2016
UEFA Champions League Final Opening Ceremony
Pepsi Max UK developed this lens putting together amazing music by Black Eyed Peas with nicely composed visual effects – all to celebrate UCL opening ceremony. The power of AR effects more than often lies in their simplicity and visual beauty. The best of branded filters create a connection between them and its fans, and moments such as huge sports events can provide a perfect occasion for it because of strong, usually positive emotions that come with them. A combination of a recognizable brand, beloved artist and sport emotions brought success to this particular lens.
SPORTS EVENTS' AR PLAYBOOK
To sum up, let me point out some thoughts which came to my mind concerning Sports Events' AR.
LENSLIST'S SPORT AR COLLECTION
Check out our collection to see more sports events' AR and to try the effects yourself.