Sweetened Reality: Confectionery AR Marketing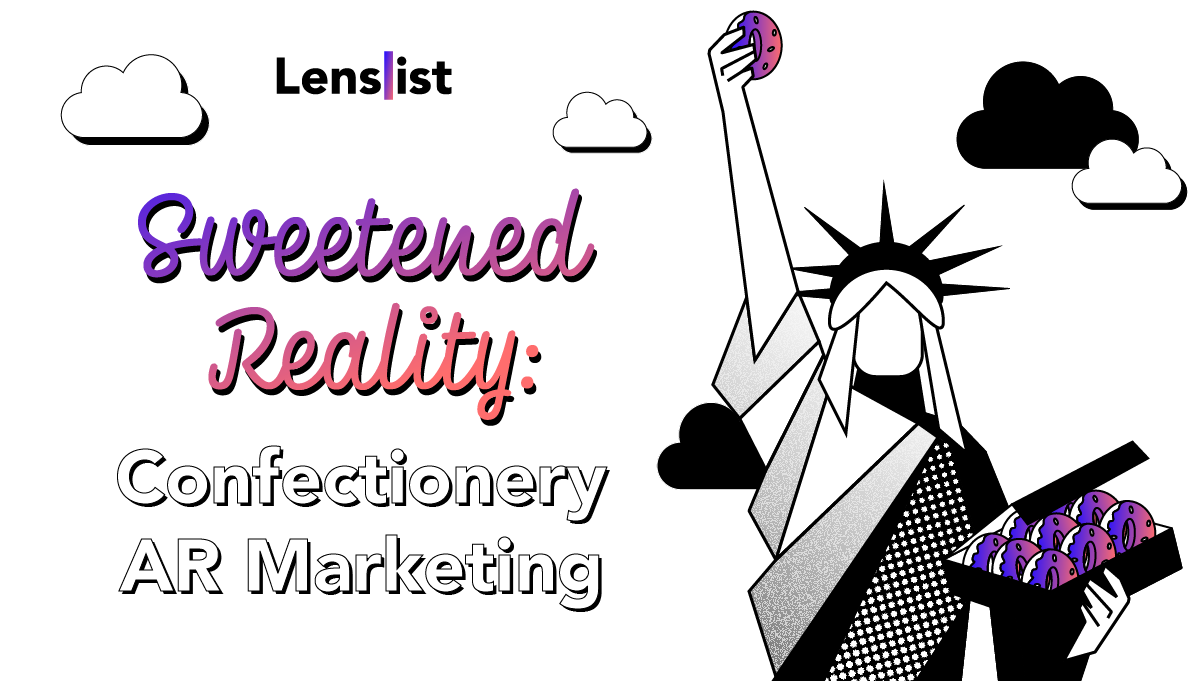 It has been known for some time now that the market of chocolate snacks gave much of its space to other products during the last 15 years. This is the reason why some of the confectionery brands decided to shift their attention from traditional means of marketing to augmented reality. The first platform to successfully implement AR into raising brand's awareness was Snapchat, with Facebook following its success for the past year.
The trend to use social media AR in the sweets industry is a natural application of basic digital marketing rule: be where your audience is. As confectionery is one of the industries which target their advertising at young people, two years ago a perfect choice for AR marketing was Snapchat with its unique, incredibly popular filters. Now, there are much more options to use AR in marketing, but social media, namely Facebook, Instagram and Snapchat (and hopefully soon – Messenger) are still the best ones.
We've collected some of the most impressive Snapchat and Facebook AR case studies coming from confectionery and snacks brands to present them as the examples of how augmented reality should be used in social media to boost a brand's awareness:
The last TV commercial for brand Crunchie aired almost twenty years ago, back in 2000, and as the chocolate snacks industry has been declining recently, Cadbury decided to bet on Snapchat Lens to promote a few of their "singles" bars. The three Lenses created for the campaign were inspired by "Get That Friday Feeling" tagline and were aimed to get 10 million views. The first one attracted 9 million. Read more

Cadbury's second Snapchat Lens is yet another perfect example of AR marketing. The eyes are turned into Creme Eggs, resembling cartoon-like dollars in the eyes, a sign of the desire to own one of Cadbury's most popular confections. Also, the most common action triggered by opening one's mouth – catching food – is reversed for the sake of the brand awareness. The chocolate flies out of a mouth and is splashed on smartphone's screen like an egg resembling Creme Egg logo. Creators didn't forget about the details, too: violet eyelids and lips are also alluding to brand's looks. Cadbury's Lens got over 14 million views!
The possibility to turn them into a doughnut was given to Snapchat users by Dunkin' Donuts for National Donut Day, as the "meme" category of Lenses is the one most popular.
The most common type of food-related contest, but well considered, was launched for the promotion of the new marshmallow-flavoured ice-cream. The goal was to catch as many marshmallows as you can, with ice-cream cones used as "lives" counter. Read more
Mars & by Mars Wrigley Confectionery U.S.
Here is an example of how the rear camera can also be used in AR marketing. There are products and situations in which placing a 3D object on user's table can create an equally engaging experience as putting a mask on face. For the National Caramel Day, Mars Wrigley has decided to bring it's M&M's known from its famous commercials even more to live.
Snickers' Snapchat Lens is a personalised visualization of their great tagline "You're not yourself when you're hungry". Opening mouth to eat Snickers calms down the once wacky, monster-like eyes. It shows how AR can be used to put a user inside both new or already well known commercial idea.
Nestle had a great idea to use Kit Kat's unique fourfold form to picture music's rhythm. Put headphones on and feel the music!
Cheerios by General Mills
Become a Cheerios and open your mouth to be soaked with milk! Snapchat Lens made for National Cereal Day.
This is one of the two AR games that have been called the first "Chew & Play" games because the only available trigger is… chewing. Read more

Another example of well-crafted AR game where you catch snacks with your mouth.
This Snapchat Filter alluding to the candy company's Super Bowl commercial was inspired by the way in which Skittles' fans play with them, "making things like pictures and slow-motion films". Read more
The main advantage of using AR in the sweets industry marketing is the enhanced way fans can interact with the product. Watching somebody eat is replaced by you pretending to eat; traditional, used-up contests are replaced by innovative, addicting AR games, and brand heroes can now appear on the screen of your phone instead of commercials. What's more, using Facebook Camera Effects and Snapchat Lenses is nothing but a social activity, in which the most important part is sharing the fun with friends. Thus, there's no need to explain how this fact can affect a brand's reach when it publishes a really engaging, creative and thus sharable effect.