Snap Camera: Snapchat Filters on Your Desktop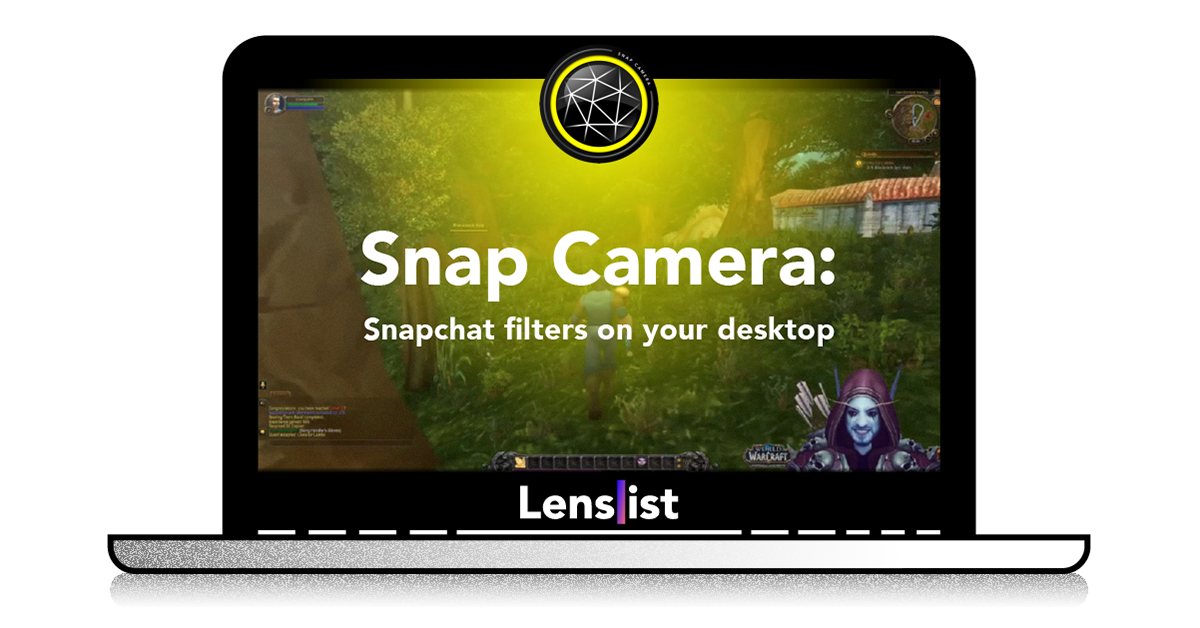 Snap Camera is an app available for Windows & Mac which brings Snapchat lenses into your desktop. It allows you to browse through thousands of lenses, both official and custom (made by Creators in Lens Studio), and then use them in video chats and live streams. Let us take a quick tour through the functionalities of Snap Camera, ending with a few suggestions considering possible opportunities for brands and social media managers.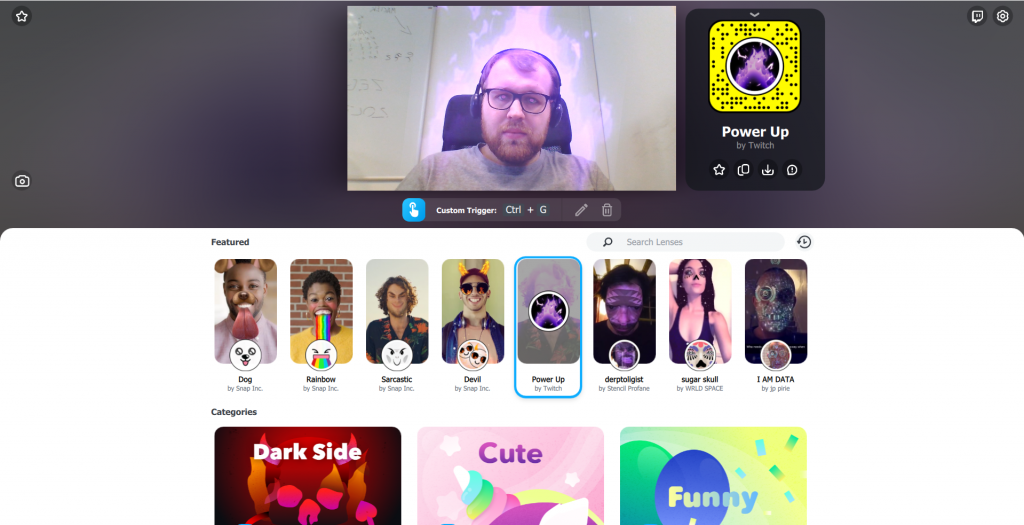 Advanced Browsing
You can search lenses by titles, by URL links or browse them by categories to immediately try them inside the app using your webcam. Snap Camera lets you save a screenshot or record a video with a current lens, download its Snapcode (Snapchat unique QR code which activates Lens in Snapchat), check out its Creator and finally add the Lens to your favourites. Also, you can see your Lens history and add a Custom Trigger to your favourite lenses which will activate them in any chat or stream you're currently using.
All these things make Snap Camera a perfect tool not only for lens Creators, who can instantly test their projects but also for all those who use Snapchat lens on a daily basis, eg. influencers or… our team at Lenslist 😉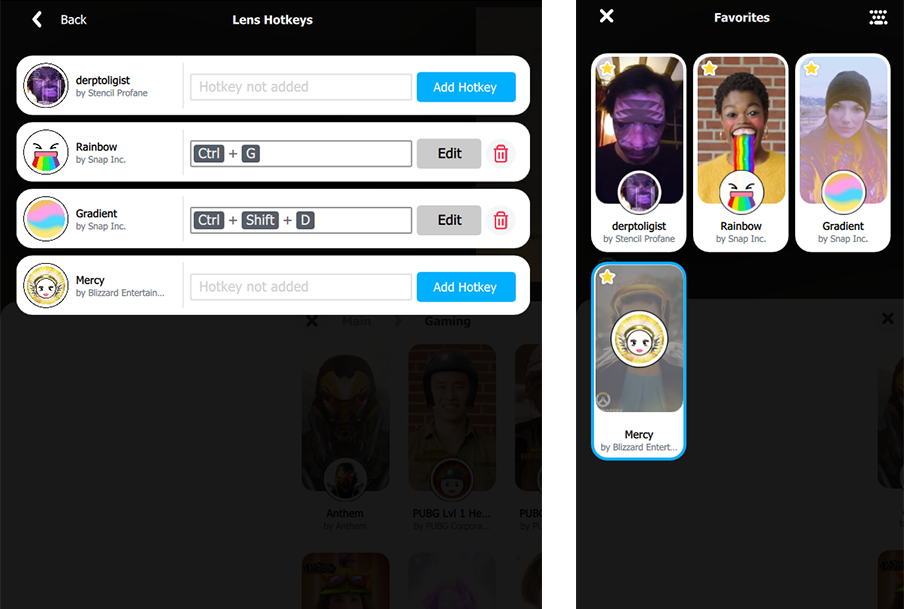 Video Chats & Live Streams
Installing Snap Camera adds another 'webcam device' to your PC or Mac, which you can use with almost any third-party apps and websites which uses your webcam. Whether you chat in Google Hangouts, Facebook Messenger, Zoom, OBS or stream a live video via YouTube or almost any other platform, you can set Snap Camera as your webcam device to start using Snapchat lens during a call or a stream. The lens currently activated in Snap Camera app will also be active in the chosen video app. Also, as we mentioned above, you can add Custom Triggers to activate one of your favourite lenses without leaving your video chat. See the video tutorial on snapchat.com
It's fair to say that using lenses on the desktop gets pretty easy in a short time. The experience is smooth and intuitive, letting everyone take full advantage of their big desktop screens while having fun with well-known Snapchat lenses. But, it gets even better thanks to the awesome integration: the Twitch extension.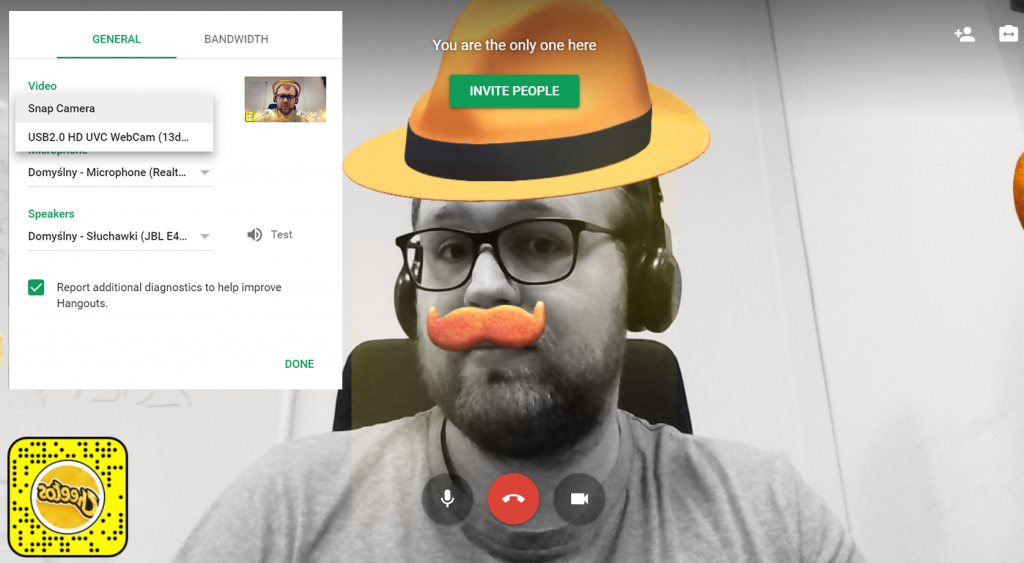 Twitch Extension – Lenses for Gamers
It is undoubtedly the most important funcionality of Snap Camera. The extension enables broadcasters to easily add and change lenses while streaming, letting them add an extra quality to their videos by emphasizing their actual mood, alluding to the current situation inside the gameplay or just making their viewership laugh a little. Thanks to the Snapcode in the bottom left corner, viewers are enabled to use the same lens as the broadcaster. What's more, he can thank his new subscribers by unlocking an additional lens for them.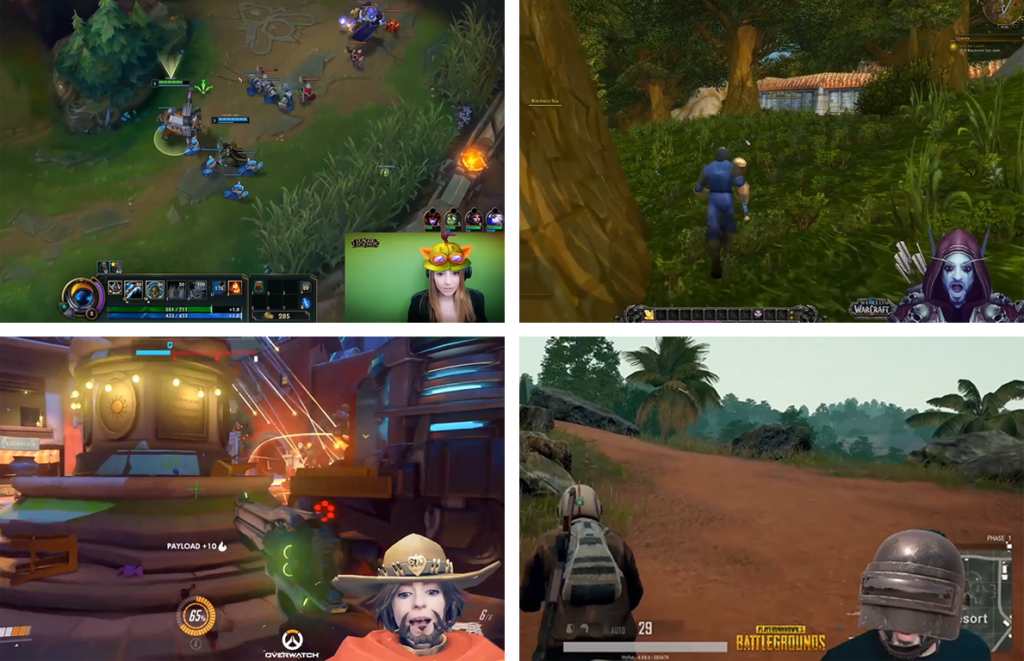 Snap Camera and Gaming Industry
While using Snap Camera with video chats brings nothing new and just extends Snapchat's basic use of lenses to desktops, the still growing gaming industry can benefit significantly from adopting Snapchat Lens and encourage Twitch and YouTube streamers to use them during their broadcasts to engage their followers in a new, fun and suitable way. The examples showed above of games such League of Legends or World of Warcraft which decided to create their own Snapchat lens to be used during Twitch streams are the indicator of an opportunity which is presented here. Movie and gaming industries are those which most commonly adopt Augmented Reality into their marketing strategies. Snap Camera and Twitch gave the later a perfect solution to do it even more so – by turning Twitch stars into characters from the games they're currently broadcasting.
Sources: snapcamera.snapchat.com, theverge.com