Best Branded XR Experiences | February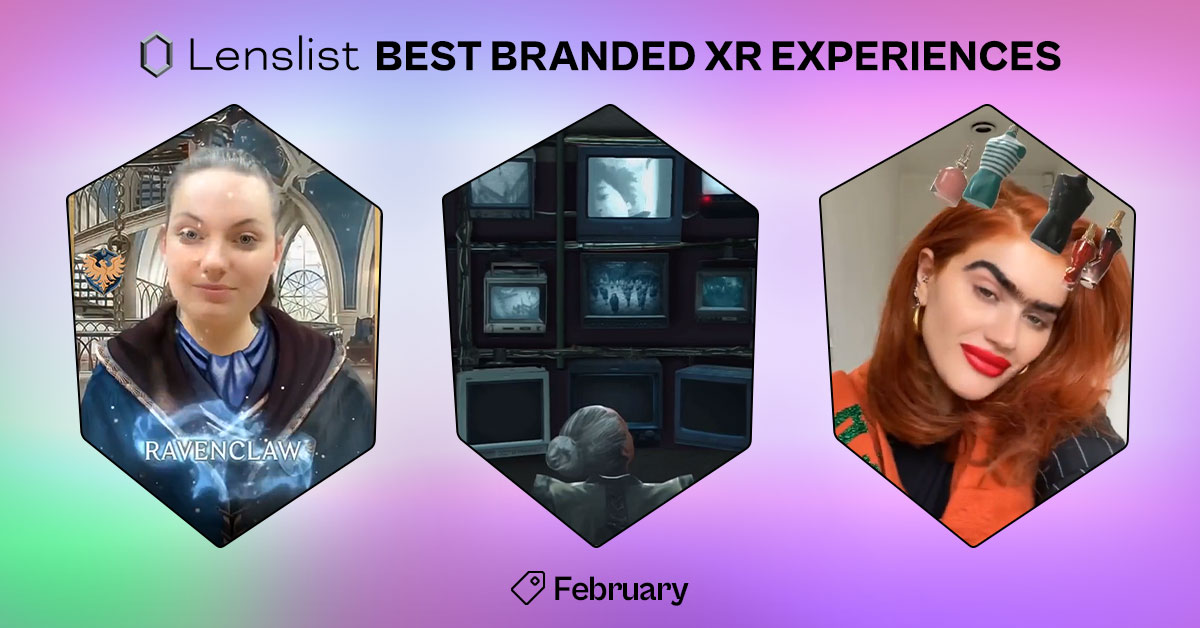 With Spring just around the corner and lots of ongoing events inside the spheres of fashion, makeup, art or architecture, brands are upping their marketing game and inviting us to be a part of it – digitally, being accessible from everywhere, and engaging for everyone. 🦋
It's finally time to reveal our top-of-the-top XR branded campaigns and experiences from February – a month, surprisingly, filled not only with love and Valentine's Day effects, but also glorious makeup looks, colorful AR murals, environmental causes and cultural architectural gems. These collaborations are carrying a lot more than marketing values – we're excited to show you the rest!
Warm up your phones and get ready to dive into 4 extraordinary projects that have immediately won us over with their utility, uniqueness, precision and imagination. 🌸
AR Mural Shake Shack Singapore by Gowaaa creative studio
Shake Shack Singapore, a burger restaurant popular not only among locals, but also luring everyone with their fresh&eco flavors and designs, has recently launched a series of stunning AR murals mixing traditional art with digital. Artworks made physically by local artists and brought to life in AR by the @gowaaaofficial, invite restaurant visitors to explore the world hidden inside them! By trying these AR filters out, Shake Shack Singapore lets users win exclusive vouchers – and simply adore the local art. 🌱
Paradise Reborn: Rewilding Palmyra by Taiji Terasaki
Providing a deep and meaningful perspective on the environment, endangered species and importance of nature, Taiji Terasaki, a Honolulu-based artist decided to convey his message inside three beautiful AR works at the Tokyo exhibition called Paradise Reborn: Rewilding Palmyra. Effects feature three Palmyra-located species: the brewster booby, convict tang and the coconut crab. By collaborating with Kenichiro Takamatsu and Future Arts Community, Taiji shows just how much artists can contribute to a better, cleaner, and more diverse world. 🦀🐠
Explore it now!
TechnoSatin Lipstick Shiseido
It's no surprise to anyone that once Shiseido, the Japanese beauty and personal care brand releases a new product – it's going to be an instant hit. In the latest TechnoSatin collection, Shiseido equips you with the perfect satin finish on your lips.
Who wouldn't want to get one of these? Find your ideal shade with 2 beauty filters straight from the Japanese beauty leader. 💋
India's G20 Presidency by Meta India in collaboration with Jeetesh Singh, Naveen Upadhyay and Aakash Mansukhani
1st of December 2022 was a big day for the nation of India. From then until November this year, India takes over the G20 Presidency from Indonesia and will convene the G20 Leaders' Summit for the first time in the country in 2023. To celebrate the theme "One Earth One Family One Future" and India's most recognizable cultural patterns, masks and architecture, Meta India collaborated with 3 XR Creators: @jeetesh_singh_209, @naaaviii, and @extraakash. Explore India's heritage through these AR filters and feel the colors, monuments and animations all around you!
Check out the rest of February's top digital branded experiences! ⭐️
TikTok
Snapchat
Instagram
⭐️⭐️⭐️
We love uncovering stories behind digital campaigns and seeing how both brands and Creators find new ways to capture all the meanings and values by giving them an augmented layer. Hope you enjoyed our extended XR branded selection and just like us, you're waiting to discover what March will bring! 👀🌸