10 AR Filters' Creators You Should Follow | July 2022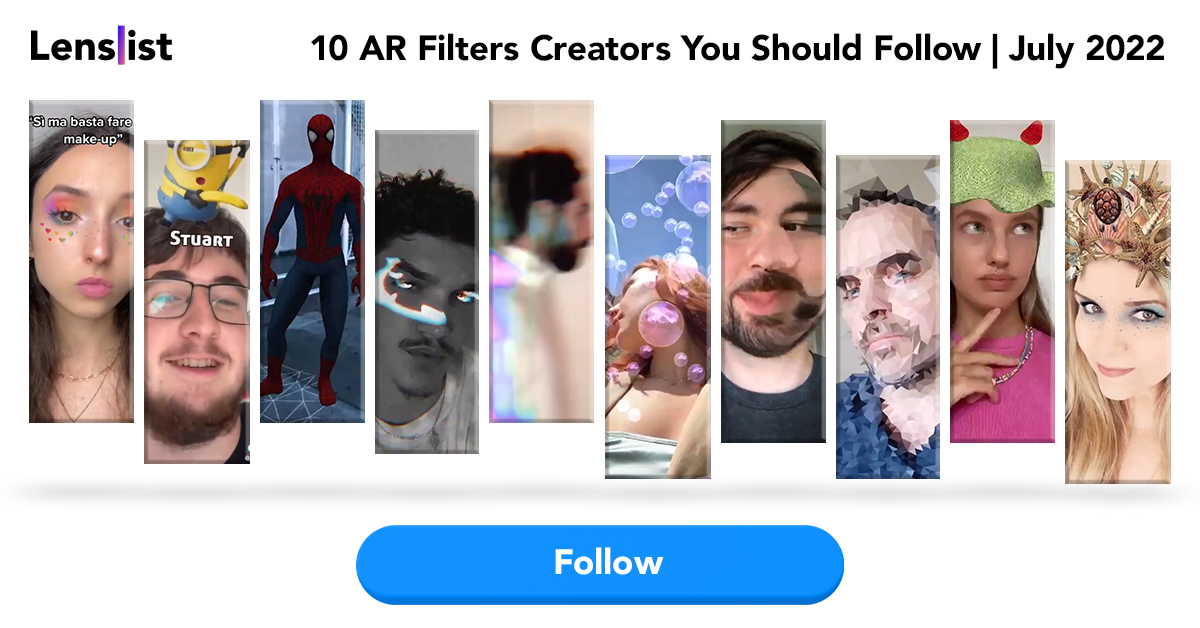 Do you remember your beginnings in AR? 🌱 Everyone started somewhere… and look at how you've all grown! 🧡
Today we share with you 10 unique artists with 10 different stories and one thing that binds them together – passion for Augmented Reality. From the very beginnings to becoming experienced artists, from simple curiosity to huge collaborations – let them take you inside their creative worlds!
Meet this month's 10 AR Filters' Creators You Should Follow. 🧑‍💻💫
Alice Marin

@a1iceinscatola
Alice Marin is an AR Creator, a Designer and Art Director based in Milan, Italy. She makes filters on Instagram and TikTok with a cute, angelic, trendy aesthetic and looking at her growth, we'll soon see lots of fresh fun ideas!
Hello! I'm Alice Marin, aka @a1iceinscatola on Tik Tok. I'm a Creator, Designer, and Art Director.

My passion for the AR world was born in 2016, when the first Augmented Reality filters began to appear on Snapchat.
I was still very young and did not have the tools and the experience to create and make something out of it, but I would have loved to start approaching Augmented Reality even back then.
In 2020, I began to grow my career as a designer by exploring the chance of being a filter Creator with Spark AR.
As my skills improved, I started to share my filters also on Instagram and TikTok and… here I am!

I think one of the coolest things about Augmented Reality is that you can imagine and create anything, and that without being able to touch it.
You can start creating from your ideas and making them so real that the results of your projects would surprise you every time – you can really give free rein to your imagination.

To define my style in AR, I found out that a lot of my filters often fall into the "aesthetic mood" filters category.
They are mostly based on current trends, like my filters "Indie fisheye" and "Fisheye cam", viral in Asia and USA, or one of the newest ones: "Pride makeup".
However, I am also keen on making more fun or interactive filters in 2D or 3D, like the "Color Challenge" one.
The AR world has given me a lot of opportunities to grow personally and professionally, as I began to nurture partnerships and collaborations.
I'm grateful to have embarked on this path and who knows what the future holds for me! In the meantime, I'll continue to have fun creating filters and sharing them with my community!

– Alice Marin
Jonah Cohn

@jonahcreative
Jonah Cohn is an Augmented Reality artist specializing in creations for Snapchat and TikTok, where you'll find lots of funny randomizers and hilarious filters. Since 2018, Jonah has been enhancing the analog world around us through unique AR experiences.
​​AR is the most immersive way to showcase my art and creativity. I see people interact with my art and watch it have a real impact on them.

– Jonah Cohn
So Funny Vidz

@So Funny Vidz
GG, a.k.a. So Funny Vidz, is an AR Creator who will make everyone laugh. Just like her nickname, she creates funny filters on Instagram and Snapchat with face deformations and everyone's favorite characters!
Hi, my name is GG aka So Funny Vidz.

I have been creating Lenses / Filters on Snapchat, Instagram / Facebook for over a year now.
As soon as I discovered that I could create Lenses / filters from my imagination or from my favorite movies, I was hooked! I have been creating them nonstop (many sleepless nights) LOL.

It's crazy to see how far I have come in my Lens creating journey. I have never even used Photoshop in my life and the fact that I can create these filters that bring characters from movies that I love into real life is mind boggling to me.

I love creating Lenses that make people smile and laugh, hence my name, So Funny Vidz.

My most popular Lens on Snapchat is called Grumpy Face. It looks ugly but I knew it would make people laugh and we all need some laughter in our lives. I am so happy that it has gone viral! It has over 112.65 million views… CRAZY COOL!
Almost weekly I take Lens suggestions from my followers so I can bring to life the Lenses of their dreams that would make them laugh and smile.

Most of my Lens inspiration comes from pop culture references, such as Marvel since I am a BIG Marvel fan. But also anything that can make someone smile and laugh.
I have been experimenting with more AR characters in real life such as my Spider-Man dancing Lens. That Lens was also featured in an article as one of the top 10 best Spider-Man Lenses on Snapchat.

I can't wait to create more immersive filters for Snapchat, Instagram, Facebook and very soon TikTok once I get a new laptop that can handle all those programs lol. So, I'd appreciate everyone sharing my Lenses.

– So Funny Vidz
Karim Bouziane

@karim_bzn
Karim Bouziane is an Architect and AR Filters Creator based in Algeria. Thanks to Augmented Reality Karim can turn his visions and what he knows from the architectural background into otherworldly projects.
Salam! My name is Karim, I'm an Algerian Architect and AR Filters Creator. My AR journey began two and half years ago and it's never ending. Since then, AR has become a major part of my life, my desire to learn, take challenges and improve my skills has never faded. Coming from an architectural background helped me speed up my entry into the AR market as the 3D skills and artistic mindset were already there. Vice versa, Augmented Reality helped me showcase my architectural designs differently during my studies and I'm very proud that I was able to combine my profession and passion.
To inspire me to create, I just close my eyes and imagine what we cannot achieve in real life: fictional characters, portals, fantasy environments etc. and try to translate my thoughts into an AR filter.
In two years my style went into a lot of different directions, but what I've learned is that: first, know your strength but never limit yourself. Second, always put your identity into your ARt whether you're creating for you or your clients, that's the direction my style is taking currently and it's the direction I'm liking and enjoying the most.
AR gives me the power to express myself and my emotions, build experiences and create a different reality (my OWN reality) based on my ideas and my imagination, and I'm taking advantage of that.

– Karim Bouziane
Ran Bensimon

@thebensimon
Ran Bensimon is a Creative Technologist working in the field of digital fashion and art, focusing on the way how they affect our creation and communication online, with a gaze towards the metaverse. Ran is based in Jerusalem and Paris, and revolves around digital art, virtual communications, and Augmented Reality.
My work covers different angles of the video and photography mediums and goes from digital art, Augmented Reality art and 3D animation to single-channel cinematographic pieces, researching new creative possibilities that are enabled by technological developments,
In recent years, I've made an increasing use of these mediums, experimenting with different methods to bring them into the fields of modern art and fashion.
I graduated with honors from the Bezalel Academy of Art and Design, with a B.F.A in 2018. My graduation film and other projects were showcased in exhibitions, galleries, film festivals and museums around the world – New York Times Square, CICA Museum of South Korea, Tel Aviv Museum of Art, CADAF Digital Art Festival, MMMAD Festival, Les Rencontres d'Arles and more.
I collaborated with brands and companies such as BALENCIAGA, Esquire, Benefit Cosmetics, Michael Kors, Cartier, Savoir Flair, Dazed Beauty, The Claw Models, Eva Engines, Mercedes Benz, TetaVi. Moreover, I also worked with artists including Abdulla Elmaz, Adi Karni, Jora Frantzis, Le Fresnoy, Bezalel Academy and more. What I focus on is taking a closer look at gaming culture, aiming to combine gaming with photography, fashion and digital art. Bringing this practice forward to the eyes of luxury brands, and showing the potential that this combination between these worlds can have.

– Ran Bensimon
Veronika Radenkova

@veronikasdesign
Veronika Radenkova is a multidisciplinary designer, specializing in graphic design, illustration, UI/UX, and an AR Creative based in Amsterdam. She's fuelled by a desire to create both beautiful and meaningful work by combining design with the technological possibilities.
Hi I'm Veronika and I'm an AR Creative working in Amsterdam. I have a background in graphic and digital design. My journey in AR started on one boring day during lockdown trying to understand how the iridescent face mask from @johwska is made.

And from a hobby, it turned into a job and now I am working in a studio creating branded AR filters for Snapchat, Instagram and Tik Tok.

In my free time, I love to learn 3D and try new softwares. I consider my work to contain luminous colors that seem to change when seen from different angles. In my personal work I try to create filters that empower and express a feeling through aesthetics.

I wish that in the future I would be able to create more interactive, educational and elaborated filters that have a bigger impact on events that matter.

– Veronika Radenkova
Auggo Doggo

@auggodoggogames
Auggo Doggo is an AR Creator and a Game Developer based in Los Angeles. He's been bonding with technology and visual arts since he was young, which then led to making his own games and now creating playful, funny AR Effects on TikTok.
Hey, I'm August (Auggo) and I've been doing a lot of creative endeavors for my entire life. My dad owns a video production company (mostly just himself), so I've almost always been able to play around with some pretty nice camera equipment and editing gear. When I was younger I became obsessed with making funny videos and just comedy in general, and I was one of the first YouTube Partners back in 2008, making funny skits with my brother and friends.
When I went to school for electrical engineering, that's when I saw a lot of crossover between tech, art, and creation, and that largely drove my interests to keep digging deeper outside of my day job. Eventually after college I taught myself to make video games, and quit my job in San Francisco to make a VR game full time, while streaming all of the development live on Twitch for 10 hours almost every day. Play it for free by the way; it's on Steam, and it's called Plunker. It was really intense, but maybe one of the most amazing times of my life!
Since then I've found that AR filters are like little tiny games, and being able to make them in such short time-frames, and then share them to a platform like TikTok where you can see millions of people using your effects, playing your games… It is just the most rewarding and fulfilling type of side project I've done. I'll eventually make more games again, but for now I just love seeing people use my effects!
I'll be honest, the biggest driver for me now is just coming up with new ways to use Effect House. If I can experiment and do something that no one has ever done, then it excites me. Also I like to share all of my knowledge through live demos and MicroJams in the Effect House community!

– Auggo Doggo
Roland Smeenk

@roland.smeenk
Roland Smeenk is a freelance XR developer from the Netherlands and he loves mixing the digital and physical worlds in interesting ways. For him, this often starts behind a computer screen, but he enjoys going outside and exploring how he can use or modify the physical environment to create new AR experiences.
Building unique AR experiences requires not only digital skills, but also exploration of the possibilities in the physical world.

My AR Journey:

I started working in 3D visualization over 25 years ago and have seen some shifts from high end computing to PC based games and now mobile AR.
The main themes in my career have been real time 3D graphics and innovative ways of user interaction.

These days I'm lucky enough to mostly do HoloLens development, typically for medical and industrial applications.
I am always on the lookout for projects that allow me to explore new tools or techniques or that can drive me away from my computer screen.
An example of such a project was being part of the team that built the Doloris Meta Maze, a surrealistic art maze in Tilburg, The Netherlands.

What fascinates me about mobile AR is that besides adding a layer on top of the physical world it also allows you to distort the image of that world.
The technical artist in me always loves to tinker with features that are unique to the medium and these are often a source of inspiration for new work.

I believe mobile AR is the precursor for new passthrough AR devices that will hopefully make a breakthrough in the near future.
Therefore, I think that building mobile AR filters will be a useful skill to prepare you for future passthrough based AR devices.

– Roland Smeenk
Julia Dudok

@juliadudok
Julia Dudok is an AR Creator from Ukraine. With her aesthetic, ethereal Effects, your Instagram feed will become magical, your selfies – enriched with cute accessories and your surroundings – futuristic.
Hi! I'm Julia and I've been developing AR filters for two years now. I like to design different innovative accessories in 3D and turn them into filters. Also, my other passion is supplementing the real world with filters – when you can use them to create something that cannot be seen in real life.

– Julia Dudok
Holliday Horton

@holliday.horton
Holliday Horton is a Southern California XR Artist and Instructor, with rich experience as an Art Director and 3D Animator in video games and immersive media. Pushing the boundaries of technology and exploring the world of AR is what drives her to create.
I have been working as an AR Artist and Developer for four years, using Virtual Reality to create content for twelve-story AR kinetic sculptures, face filters and mini AR games (collaborating with my daughter). I have shown my VR/AR art worldwide at various shows and festivals, and in April 2022, I developed a Snapchat Lens for LACMA as part of their Monumental Perspectives series.
We are in the midst of an exciting new digital renaissance where artists are designing new paradigms for interaction and design. I am interested in the future of Augmented Reality fashion and art because the traditional rules do not apply. Design elements do not need to be attached as they are in the real world, and gravity is no longer a constraint but instead a feature that can be animated. I am inspired by all of the amazing artists worldwide that are breaking boundaries daily with truly imaginative works.

– Holliday Horton
What an adventure! ✨ So many new faces, new talents, new Effects… Hearing stories from the AR Community and witnessing your growth always makes our day and warms our hearts. 💜
Don't forget to follow them and keep an eye out for what they'll create next!