AR Talk | Rory Scott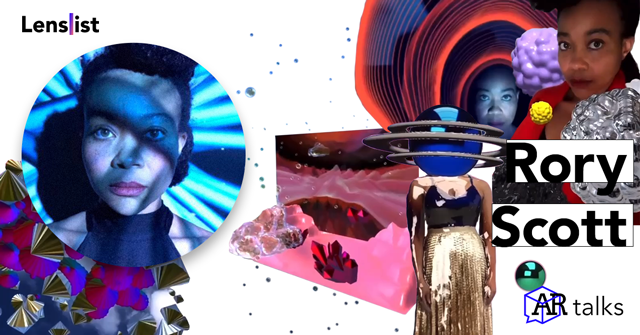 12 years spent on a project, the concept of time and reality…Intrigued? We definitely are! 🤩 In today's AR Talk Rory Scott, a multidisciplinary artist from the US, will tell you about her journey and unveil the mysteries behind her art 🌌⏳ Let's embark on our magical trip inside Rory's vision of the Universe! 3…2…1… and take off! 🚀💜
Hi Rory! Knowing that you are an Alumni of The School of The Art Institute of Chicago and seeing the amazing works you create, we wonder whether you have always known or felt that pursuing art is your thing or maybe it had all started differently – tell us something about your beginnings!
I have always loved making things but I didn't consider it something I could do seriously for a long time. It wasn't until I started working after college that I began to have a real change of heart.
I went to art school but I thought I would be responsible & get a corporate design job—so I could pay the bills. But eventually, I felt like I wanted to create work that I felt proud of and passionate about. Realizing this changed my life and eventually I decided to pursue art full-time.
As you work with both handmade and digital means – which one do you feel closer to? Does creating art in AR make you feel somehow more connected with the artistic world and the community?
I use both handmade and digital means to create my work out of philosophy and necessity. I definitely prefer using technology but I feel a closer connection to creating through physical means. I feel like I make a lot of mistakes that aren't easily corrected when I'm working with my hands. I tend to work very fast and I get super excited and that doesn't lend itself well to creating something that is well-crafted and polished in a physical form. However, creating digitally is far more forgiving.
One of the many things I love about AR is that I get to experience the best of both worlds. In many cases, I get to digitally create something that is polished and then place it into my physical environment using my body. It's a really wonderful combination of both the digital & physical realm.
I definitely feel as though AR has strengthened my connection to the art world — my work can have an almost physical presence anywhere. There's this amazing potential to reach people, show your work and have a presence around the world in a way that undoubtedly builds and strengthens your connections to the community. I think that it's very powerful and I am very excited about it.
Could you tell us more about the "Impermanence" project on which you have been working for quite some time now and what made you embark upon such a journey? Has this process been difficult for you or challenged you in any way?
Impermanence is many things. It's my making peace with change & time. A reflection & dialogue about my own impermanence and the impermanence of humanity as well. It's an examination of reality and truth & how both are learned & perceived. An observation of how patterns of thought and action create our lives and reality itself. It's basically all the things that I think about all the time. Including how we as individuals have the power to change the course of humanity by solely focusing on bettering ourselves.
I've been working on Impermanence for about twelve years. If anyone had told me that I'd be still working on this project now, I don't know if I would have started it. I think I would have found the prospect too daunting, but I am grateful I did. It's evolved into my practice & life.
What got me started was just feeling like, what am I doing with my life? I was at a point where I looked back into the past and I saw years and events behind me & I felt like well that time passed really fast… And then I flashed forward into the future by an equal amount of time and realized I didn't know where I was heading but I knew that I wanted to head towards something that I would enjoy & like. I wanted to feel as though I was in control and that it was possible to create seemingly impossible change through repeated deliberate thought & action over time.
When you're growing up people tell you what is possible & what is expected of you to do. You're supposed to go to school, get good grades, go to college, get a job all these different things, and then, you're left with no direction. People stop telling you what to do and it's time for you to decide what it is that you want to do for yourself.
It's been a huge challenge; a constant push to stay focused, to learn new things, to challenge old modes of thought, to ignore doubts, and to sustain belief. It's been an incredible journey that has literally transformed me and I am grateful that I decided to embark upon this path.
We have noticed that many of your works have to do with the concept of time – could you tell us more about how you perceive time both personally and professionally? Are there any other concepts or specific themes that you include in your work?
Time is definitely a central theme in my work. I'm obsessed with time. I've always been obsessed with time, even when I was a kid. I feel like it's one of the things that really defines what it means to be human. No one escapes time and that's really profound & impactful to me.
I've always really enjoyed the existence of things from the past and thinking about, wow, this thing still exists, while the person who created it is long gone. Or seeing an old tree and thinking about all the generations that got to experience its living presence.
I've always had this ongoing conversation with thinking about time. And when I started Impermanence, the conversation was about recognizing the need to be ok with letting go. Letting go of people places things and periods of time and that it is ok, to be ok with change.
In the process, I found ways to cope with the feeling of loss caused by time. I began to recognize time as a tool & a medium to create positive change as well. As a result, I am rarely idle in my life. I'm always in motion thinking about how can I use even the smallest parcels of time to create gains and advancements in both my personal and professional goals.
There are so many different themes in my work. I don't know if I'll ever be able to list them all in a concise way. I'm always thinking about the push and pull between humanity and technology. Thinking about repetition in terms of your thoughts & what you allow into your mind & how that programs you and in turn shapes your life.
The nature of reality deeply interests me.
I often think about what is the source of people's perceptions of reality and beliefs. And I find it fascinating that technology has had this ever-increasing impact upon reality and continues to add new dimensions and layers in how we perceive.
I feel like we have entered this new age where reality is constantly changing & shifting. It's disorienting to imagine how reality will continually be redefined in the future, where there are no longer axioms or agreed-upon truths.
Which exhibition or an event you attended or were part of was the most unforgettable one? How did it feel? Was there anything special that caught your attention?
One of my favorite shows that I've been fortunate to be a part of is De:Formal's "The Rise of the Care Machines". It was a show comprised of other artists who are also mothers.
The curation was great, the presentation was great and the artwork was really fantastic. The themes of motherhood that were shared and explored were very much unlike what I imagine people typically associate with the narrative of motherhood. I felt incredible energy from the authenticity of the show. As well as a camaraderie with other women who are having this shared similar experience.
Let's imagine there is extraterrestrial life and you are offered an exclusive trip to another planet to meet other colonies – which 3 AR artworks would you show them and why?
If I had to choose 3 AR artworks to share with extraterrestrials, I would choose Bioluminescence, Impressions Path (1 or 2) & Hycean Planet.
I would choose Bioluminescence because it's an immersive & magical environment of light that you can travel into and explore. It's like a hybrid between organic life and technology.
I would also choose to share either version of Impression Path. I like that they both really show this whole idea of thinking about reality & truth as being multi-faceted. And that truth and reality exist depending upon your position & perspective in time.
The third filter I would share is Hycean Planet, which is yet to be released. It's a very special AR work and is unlike anything else that I have created. The experience will evoke feelings of being submerged in another world.
Who inspires you the most? Would you like to work with them someday?
Iris van Herpen. Her work and vision are absolutely outstanding. Everything she creates is just so perfectly exquisite and flawless. Given the opportunity, I would absolutely jump at the chance to work with her.
Could you tell us a bit about your experience with AR NFTs? Have you created any cool new designs? If you could give any advice to young artists who want to jump on the NFT market – what would you tell them?
I am just diving into the market of NFTs but I'm really excited about the future of what I envision for the AR NFT market. It's a whole new world of being able to create experiences that people can collect & share.
I see AR as this perfect fit for NFTs bridging the gap between the physical & digital space. The art exists beyond the screen in a way that you can actually engage with it in real life. This is amazing and I find definite value and opportunity there.
It may be premature for me to offer advice since I am just getting started myself. However, I do believe no matter what you do, you have to stay true to who you are. Not get distracted by or compare your path to others. Know your intentions, set your beliefs, stay focused & keep pushing—good things will eventually come in time as long as you just stay in the game.
Thanks, Rory for sharing your experiences and visions today! 👾👾 The way you perceive art, the Universe, and humanity is definitely extraordinary and incredible – made us completely mesmerized! We are thrilled to see your next works 💜👏🏻
Find out even more about Rory and her masterpieces on her website: http://www.rksxo.com/