Get Free Tickets to Join Us & More AR Pros at ARfest Prague 2021!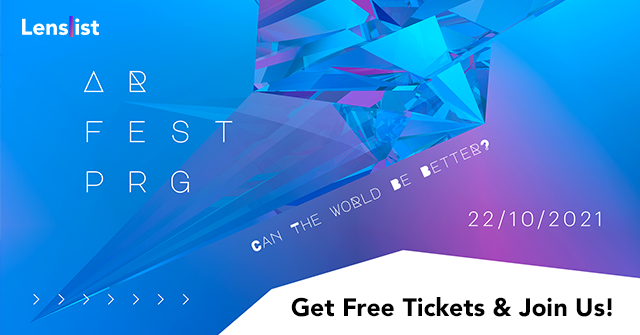 Hey Creators! 👋 We invite you to join us and 12 speakers from 7 countries to discuss the future of AR for brands, consumers and our current digital reality as a whole at the second edition of ARfest Prague – first AR festival on Earth! This Friday (October 22nd) AR Pros like Marc Wakefield, Piotar Boa or Kym Fiala will share their opinions and predictions about the role of AR in real life as well as in social media and digital marketing. Attendees (hope you'll be there!) of this brainstorming event will have an opportunity to explore the world of AR and XR Creators as well as big brands and NGOs to spot some sophisticated inspirations and potential business solutions.
When & How to Join? 👩‍💻
In case you can't come to Prague, meet us virtually during a full-day event starting at 9 AM CET. The keynotes will be divided into four tracks, all of which include a panel discussion and an online chat, so that we can connect even from far away 😁 Learn more about the event by going to the ARfest website 👇
Apart from the Friday live stream, the organizers (shout out to Pavel Max!) also came up with Palladium AR Days – an offline event hosted at the biggest shopping center in Prague – lasting from 21st till 31th of October, so don't forget to visit Palladium in case you're in town! During those days every visitor will have an exhilarating opportunity to try out the best AR filters from the best AR creators and dive into the world of Augmented Reality on the spot! 💖

What Can You Learn at ARfest? 📚
ARfest Prague, the first ever AR festival will explore the latest developments in AR solutions and how they can help brands and non-profits to spread their message – our international group of Creators and AR Pros will for sure provide you with trendsetting ideas! Among others, Piotar Boa will explore how AR can change the fashion industry, Chris Pelk will explain the idea of Metaverse, Marc Wakefield will describe his fascinating AR journey, our Co-Founder Zuza Śliwińska will explain how Lenslist connects brands and AR Creators to bring more opportunities to the Community and grow the AR market 🤩
You'll also be able to learn more about the Rainbow Madonna filter from Amnesty International. This AR effect is especially close to our hearts, since it concerns a story of a Polish activist, who got arrested for promoting the values of tolerance and showing support for the LGBT+ community. Rainbow Madonna proves that AR is one of the best mediums for social campaigns 📺👇
Check out the full line-up below and join us at ARfest on October 22nd! 📆👇
FRI 22/10/2021 — 9AM-7PM CET livestream.
Track 1
👉 CHRIS PELK / NL — A magical AR creators tale.
👉 VINCENT TRASTOUR / FR — 1 000 000 000 000 impressions with AR?
👉 KYM FIALA / JAR — The magical world of World AR.
+ panel discussion & chat.
Track 2
👉 PAVEL MAX VINCENC / CZ — Why is AR so cool?
👉 PIOTAR BOA / IT — AR fashion is the new black.
👉 MARC WAKEFIELD / UK — Enjoy the amazing story of mARc — part I.
👉 ZUZA ŚLIWIŃSKA / PL — Lenslist – the platform where Brands and AR Creators meet.
👉 LLUIS ROTGER VIDAL / SP — Special guest & Cannes Lions winner.
+ panel discussion & chat.
break
Track 3
👉 CHRIS PELK / NL — Watch out! The Metaverse is coming!
👉 MICHAL HORNIECKY & ŽANETA SLADKÁ & PAVEL MAX VINCENC / CZ — 2 years in prison for a rainbow halo? Amnesty International — Rainbow Madonna.
👉 CAROLINE ROCHA / FR — Can AR change your life?
+ panel discussion & chat.
Track 4
👉 MARC WAKEFIELD / UK — Enjoy the amazing story of mARc — part II.
👉 ADRIEN CARTA / FR — Special guest & AR games
👉 PIOTAR BOA & GIANMARCO GIORDANI / IT — How can AR help Blockchain?
👉 and MORE to come…
+ panel discussion & chat.
See you there Creators 👋💖