10 AR Filters' Creators You Should Follow | April 2021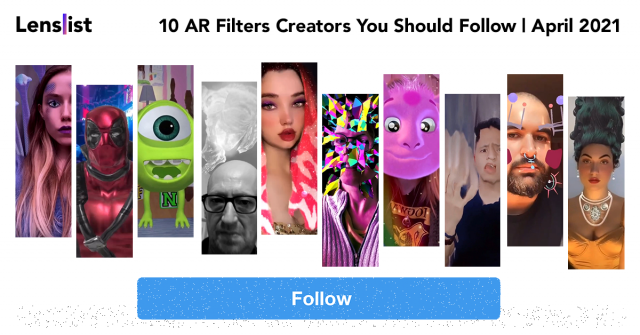 In April, we've asked yet another 10 of the most talented Instagram filters' Creators about their AR journey, style of their filters andtheir plans for the future. Get to know the Creators, try their camera effects on your mobile and follow them ✨
Katya Liakh (Pavlenko)

@delilah.showed.me.how
Living now in London, UK, Katya is an Ukrainian AR Creator with an experience in filmmaking. Among other reasons, she picked Augmented Reality because it "lets the users tell the stories and create their own content with it'.
I come from filmmaking background, and started AR as a simple hobby during the first lockdown in London. I then learned 3D, and I couldn't stop ever since. I learned from the best, including an actual course from FFFACE.ME. My main inspiration is definitely cinematographic world. Fantastic characters with weird looks – yes please!

Right now I work in AR full-time, and I just wonder and am excited about where this journey takes me in the future.

– Katya Liakh
More Filters Instagram Website
Damiano Mansi

@mansi_damiano
Damiano is an Italian social media consultant. From photography and digital strategy to AR filters, he provides the variety of services as a freelancer. His background consists of psychological studies and customer management at IT companies.
I discovered AR two years ago, from a simple hobby, I participated in the Hackathon Summit 2019 until being the first AR Speaker of the official group "Facebook Developer CIrcle Roma" in April 2021.

A path that led me to love this world.

I like to create 3D animations and filters to support good causes, I try to find inspiration and creativity by looking at the world around me. For the future I'm starting to study VR to combine it with AR.

Everything is possible.

– Damiano Mansi
More Filters Instagram Website
Santiago Machado G

@saint.abyss
Santiago is an architecture student who spends his free time designing animations and illustrations (check them out on his website), and programming filters for Instagram and Facebook.
I was always interested in art and especially drawing. During the last years, I learned how to use different programs to make illustrations, animations, 3D models, and much more. Then, during 2020 I discovered Spark AR and little by little I was discovering new ways to incorporate the rest of the things that I learned within the Instagram filters.

When I go to create an Instagram filter for myself the first thing that I think is "what would I like to try to implement in it?" and then I think about what kind of filter I can create that includes that. I constantly try different things by creating all kinds of filters, although recently I have tried quite a few things with 3D object animations.

I hope to create filters where people can interact more and more with the things that I include in them, and that have several possibilities for people to adapt it as they like best.

– Santiago Machado G
More Filters Instagram Website
Julian Vizard

@jviz
With over 30 years of experience in advertising and design, Julian is a Co-Founder and Creative Partner of London based advertising agency St. Luke's.
I started exploring Spark AR in June 2020 as a way of getting a better upstanding of AR's capabilities for our clients and as means of spotting the talent who make the effects. Also working from home meant having my work Mac with me, so I decided to use the downtime I'd normally spend on my PS4 and put it into levelling up my skills instead.

Little did I know that as well as grappling with visual coding, I'd also be teaching myself 3D, After Effects, and Substance Painter. It's quite a learning curve but thanks to the Spark AR community and Eddy Adam's masterclass in particular, you can pick the basics up quite quickly.

My visual style is just about trying to get the effect as immersive as possible. Having said that, I've definitely got a retro sci-fi thing going on. I love trying to translate what was once cutting-edge effect in film, onto a device that everyone carries around in their pocket.

The plan is to keep developing my craft skills and fulfil the original goal of helping our clients to take advantage of the amazing engagement possibilities of AR. Also, keep having fun along the way. It's great tool for personal creative expression. I don't know what my family and friends make of the strange posts that have taken over my Instagram, but I suspect they may think I've lost my mind, hehe!

– Julian Vizard
More Filters Instagram Website
Alessandra Matvejchuk

@sasha_soul_art
Sasha is an AR Creator specializing in beauty filters for Instagram and currently learning 3D design. Before becoming a Creator, she was working as a logistician.
Hi, I'm Sasha and I love creating filters for instagram. This is my hobby and a way of earning money, so I am a happy person.

My main direction is beauty effects. I am inspired by the work of popular make-up artists, make-up actresses and models. It is important for me that the filter is cute and uplifting and gives joy. One of my most popular filters is "cute baby face", it was after it that my popularity began to grow. I am currently studying 3D modeling to improve and diversify my work. I'd like to develop in the direction of "augmented reality".

I dream to conquer the whole world with my beauty masks. I wish you all success and good mood.

– Alessandra Matvejchuk
Vibeke Bertelsen

@_udart_
Vibeke is a digital creator based in Copenhagen, Denmark. Besides being an AR Creator, he is a partner and cofounder of design studio Vertigo which specialises in digital scenography and large scale light art installations He publishes AR tutorials on YouTube.
Creating AR effects is my playground. I have decided for myself that I'll not think too much about sticking to one certain style, I'll simply go where inspiration takes me. For me creating effects is a pleasant break from my work. I work with a group of people doing large scale light art installations which I also enjoy very much, but it's nice to have small scale personal projects once in a while such as a new AR effect.

When I create effects I feel I have a myriad of possibilities opening up and sometimes I end in another place than I started. If I were to put words on my effects I'd say they explore altering a person's appearance using visual effects or they have some sort of humour to them. I generally go for the grotesque rather than the flattering look.

Before starting with AR I have worked several years with 2d and 3d graphics plus various types of programming. When creating effects I feel that all my skills come together in a useful way which is very satisfying.

I get inspired by all kinds of things I see. Art in general is a great inspiration, I might come across a surrealist painting and go 'ooh that would make a nice AR effect.' My alias Udart means 'something that evolves' in Danish and it's fitting as I never really know where it will take me as I simply aim to keep the work interesting and fun for myself.

– Vibeke Bertelsen
More Filters Instagram Website
Nastya Tsarenkova

@tsarenkova_anastasiya
Thanks to her experience in makeup and hair design, Nastya's tech skills in 3D modelling found a great use with Spark AR in creating Instagram filters that are both creative and beautiful.
I have been working in beauty industry for 9 years before I became a mother. I love Instagram and once I read somewhere that there's an opportunity to join close beta of Spark AR. As many other creators, I have started with a number of makeup filters. Now I don't actually know how many I have done, I think something about 200. The thing I love the most is to create movie/fantasy character filters.

– Nastya Tsarenkova
More Filters Instagram Website
Yisus Saavedra

@yisus.saavedra
Yisus is a developer and an AR filter Creator who loves to experiment. He describes the style of his filters as psychedelic and paranormal.
I'm a programmer, but I have a certain passion for graphic design. I think within the world of Spark AR it is a perfect match. When the augmented reality effects hit Instagram it was great, and I said to myself: "Why not try them, if I can do it?" I like to challenge myself to explore unknown things.

I started to fill with many sources of inspiration to create filters, and many of them are based on my favorite movies and TV shows, or even the music I listen to. But the main style that connects with everything, is the psychedelic and the paranormal (I must mention that I am a fan of those topics).

I like to experiment with different features of the show, because I think what we know so far about augmented reality is just a small part of something bigger that can be achieved in the future, and I'm sure I can be a part of this.

– Yisus Saavedra
More Filters Instagram Website
Irakli Barliani

@3d_by_irakli
Irakli is a 3D artist, graphic designer, photographer and AR Creator from Tbilisi, Georgia. He's also currently making a bachelor in physics. Check out his 3D artwork and photography on his website. His tip for the newcomers to AR is this: "keep watching tutorials and don't forget to try something new after learning the basics".
I am a fairly newcomer in AR. Of course I used Insta filters, but I was introduced to making them in Spark AR by my sister Barbara, you might know her as Cyb_arbara😀. My AR journey has been very fun and exiting, because I come from 3D work and background and all the tracking tools that come with Spark are exiting for me. I mainly do filters that have 3D elements/components in them, so I would describe my filter style as abstract 3D filters.

– Irakli Barliani
More Filters Instagram Website
Isabel Palumbo

@bittermesh
Isabel is an Italian AR Creator based in Amsterdam who built a creative studio Bittermesh together with her partner. We'll leave it to Isabel as she shares a lot of info in her quote 😉
My name is Isabel Palumbo. I am a 24 year old Italian AR designer and texture artist currently based in Amsterdam. A year ago, after completing my master in Museology, I started experimenting with augmented reality and its potential in the cultural field.

I soon started my journey with Spark AR which opened many doors and opportunities in my career. I had the chance of working on lenses for many brands and build a creative studio together with my partner specialized in creating low poly assets for augmented reality experiences. We draw inspiration from video games, paintings, Japanese animation studios, music videos and the Spark AR community which is filled with amazing creators who are willing to share their knowledge and experience in this field.

The style of our filters is mainly extravagant and over the top, it reflects our aesthetics and our taste when it comes to visual arts. Our aim is to introduce surreal elements into the real world, or to introduce existing elements of our reality into the AR universe. As for the future, we hope to expand our studio and make our business grow together with other creators. We would like to build interactive exhibitions for museums and create an AR videogame! For now we are working on our website and solidifying our relationships with clients.

– Isabel Palumbo