AR Talks | Teejay Jamlang On Humorous Filters and Filipino Community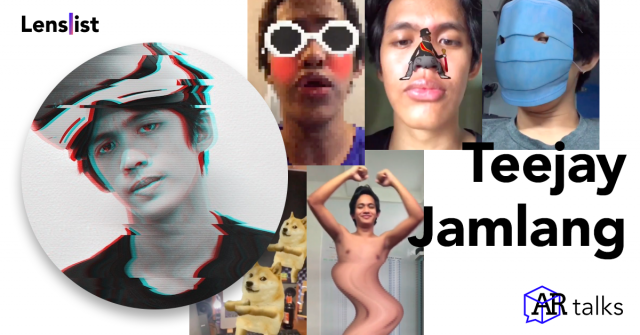 Teejay Jamlang is a young, talented Filipino Spark AR Creator for whom humour in AR filters is as important as every other aspect. A smile on his face never faded as we've talked about struggles of Filipino Spark AR community and his official partnership with Spark AR. As Teejay is an author of several branded filters, we also asked him about working with the clients.
Hi, Teejay! First, please tell us something about yourself. How did it happen that you've become an AR creator?
Hi! I'm Tee Jay Jamlang and I'm a Game/VR/AR Developer from the Philippines. Welcome to my Tedtalk! Lol. My interest in AR and VR started when I was in college. After I graduated, I pursued this interest and I became a full time Game/VR/AR Developer. I started to use Spark AR just when it was released on Windows, but I'd been interested in it since Zuck announced it!
I suppose one can say that your hilarious filter TWRK has become your breakthrough moment as a creator. Many other of your effects were meant to make people laugh, as well. Why is humour so important to you and why do you think such AR filters are valuable for the community?
Oh the Iconic TWRK… That filter jump started my whole Spark AR career. That got me a billion Impression and a 100k follower when that filter blew on Instagram!
But you know what I love the most about the TWRK? That filter also makes millions of people laugh and smile! Awwww! And I think that's the best thing you could get in making filters.
I can't say humour is important in making filters, but making people smile and laugh is my main inspiration for making my filters. Especially in these challenging times, making people laugh and smile helps them cope with the pandemic.
What is the source of inspiration for you? What is your artistic process when it comes to creating AR filters, both for the community and for the clients?
I actually don't have any artistic process in making my own filters. Usually, ideas just pop out of nothing, when I'm browsing my feed, when i'm watching a video, or when I'm walking down the street. It's all random. And when it happens I usually rush to write it in my notes or rush to my computer if I can and start doing it while hoping it is technically possible LOL.
But when doing filters for clients, it's a lot different. I usually start by asking if the client has their own idea or not. And if they don't have one, I usually think of filter ideas based on their brief. I also like to work closely with the client's creative team. This helps us generate amazing ideas. Then, if we already have the idea, usually we keep it open for changes while in development.
Focusing on the clients – you're the author of a very popular filter 'Oishi Hot Hipon'. What could you share from your experience on working with brands?
Working with brands is not always fun and exciting like when I worked with the 'Oishi Hot Hipon' project. Most of the clients and brands I've worked with in the past usually approached me with the ideas and budget approved already. And this is a big issue for me, because it's always a randomizer filter or something alike lol. This scenario limits my creativity and that sucks! But I need to work for food so I need to accept the project XD.
Unlike with the 'Oishi Hot Hipon', where they approached me when they were still in the ideation process. Because of that, I had the chance to share my creative inputs while having my artistic freedom. And you saw the result right!?! Amazing Huh!?!
The result was, indeed, amazing. During our earlier conversation, you've mentioned that, unfortunately, there aren't many advanced AR creators in the Philippines. Why do you think that is and do you know what can be done to change this situation?
Yeah, as of now the only advanced AR Creators in the Philippines that I know are Mistuko Ono and Patrick Cabral.
I think the problem is we lack resources and community that targets Filipino Creators. We already have a community for Filipino Creators but not as active compared to other communities like Russia, Singapore, and Taiwan's. There's a lot of advanced Creators in Russia, Taiwan, Singapore, and other countries because of their community.
I am also planning to create tutorials that target the Filipino Creators and I hope that could encourage new creators to level up their skills.
That's great! Can't wait to see your Filipino tutorials! Teejay, you're an Official Spark AR Partner. Could you tell us what does it take to become one and how does the process look like? Knowing Spark AR Team, we're sure that it's definitely worth it to become one, but what is the most important thing for you in being a Partner?
For me, being a SparkAR Partner is an accreditation and validation to our work and talent. Also, it connects us to the community of highly talented Creators and also the Spark AR team.
But before becoming a Spark AR Partner, first you'll need to be invited and then they'll screen all the people invited. I don't know if this will be the same in the future.
I still don't have any idea why Spark AR Team chose me to be one of the Partners. I think they have a criteria that I have met. Who knows? I'm not sure what are these criterias but here's a list of my guesses:
You're active in the community not only posting your works but also helping people and sharing new knowledge,
You're skilled enough and your works are quality and professional looking,
You've already worked with brands or clients,
Your inputs in the community are not only helpful with other creators but also for the SparkAR team on improving the platform,
And lastly, you followed Lenslist XD
Heh, yeah, that last criterium must be true, so everyone, follow Lenslist! 🙂 Finally Teejay, the question we ask a lot of creators: what is the feature that you're waiting the most to appear in Spark AR Studio?
NETWORKING MODULE!!! Also, body tracking, multiple target tracking, foot tracking, and… physics simulation maybe? Who knows what the Spark AR team's surprises are? But for sure they are all exciting!
Teejay, thank you very much for sharing your experience and your thoughs with our readers! We wish you clients open for something more than a randomizer, and we're excited about your goal to popularize Spark AR in Philippines. Take care!
Visit Teejay's Lenslist profile to browse through all of his filters and to contact him 👇