Creator Spotlight: Lucie Bouchet | Tenessees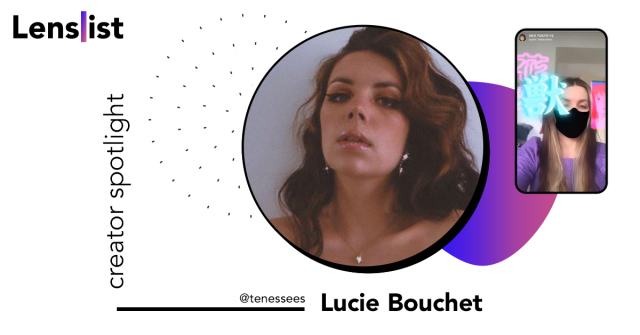 Creator from 🇫🇷 France
Hi Lucie! Please, tell us something about yourself.
Hi! I'm from Marseille, in the south of France. I'm working as a freelancer, my main fields are Community Management, Graphic Design and AR. I began making filter a year ago and I never stopped.
How many effects have you created so far and for which platforms?
60 included clients, Instagram only.
Name the best effects you created and briefly describe them.
For the first one I'll say Neo Tokyo, it was the first filter I was very confident and proud of. For this one I wanted to create a futuristic Tokyo look, with neons, glitch and animations. I love the colors and the "badass" look it gives to users. I feel like I'm a main character of a dystopique movie while using it.
For the second one I'll choose Queen of the Moon. I'm currently reworking a lot of my old filters and this one is a part of this. I don't know if it's my best one, but I feel like I get one step further into the AR makeup with this filter. For this one, I wanted to create an interstellar look with glitters to add some magic, to transform the user into a Moon goddess.
Which platform for creating AR filters is your favourite and why?
Instagram, I don't use Snapchat at all but I did try Lens Studio and get lost right away. I need to give it a second chance.
What in your opinion makes an AR effect successful?
For me what's makes an AR effect successful is not the skills, but the idea. If the filter is funny, everyone will use it and it will get viral. For example one of my most viral filters is the one with the ugly fringe, I've made it in like 30min. People wants to have fun, especially in those times. The most important thing for a successful AR effect is to create something unique, and having fun while doing it.
If there is anything else you would like to share please do it here:
If you want to stars making AR but feel like it's too hard, just do! There's plenty of tutorials on Youtube, and an amazing community to help you if needed.