Creator Spotlight: Chandler Thompson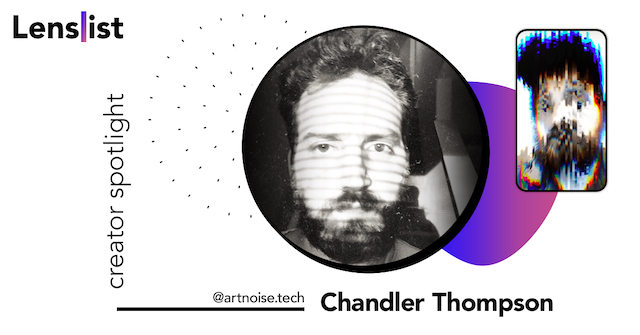 Creator from 🇺🇸 United States
Hi! Please, tell us something about yourself.
I grew up on a farm in Texas. Howdy y'all! 🤠 Now, I'm a software engineer by day and XR developer by night. I've been creating interactive and generative art/music for a few years, and I recently started working with AR platforms in May 2020. I love making effects that are audio reactive and that can augment dance or performance!
How many effects have you created so far and for which platforms?
I've created 50+ effects mostly for Instagram and Facebook. I'm also interested in creating Snapchat effects.
Name the best effects you created and briefly describe them.
One of my favorite effects is Faulty Pixels, an audio reactive pseudo pixel sorter. I love glitch art, so I was very eager to contribute a generative, interactive effect to simulate pixel sorting. You can pick between different color profiles, tap to change chromatic aberration, and slide to adjust size of pixel columns. The effects will intensify to the microphone/music input.
Second is Queen's 🔥 which is part of the Queen's Collection. The effects in the collection all have a similar theme and color palette. Queen's 🔥has audio reactive rainbow/neon colored flames that will burn around people in the scene (or burn from hard edges if you tap and hold.) Other effects in the collection include Queen's ⚡/ 👀/ 🌈/ ❤️/ 💨/ ✨and more!
My third favorite is Atari Punk Face. As a synth musician and circuit bender, I wanted to pay homage to the quintessential synth known as Atari Punk Console, but with an AR twist. Instead of twiddling knobs with your hands you can do it with your face! Tilt your head and make different facial expressions to unlock all of the musical possibilities. The result is an original music composition and some very funny faces!
Which platform for creating AR filters is your favourite and why?
Spark AR is my favorite currently – mostly because Instagram and Facebook are my preferred platforms for my art. I really enjoy how quickly I can prototype ideas and publish new effects.
What in your opinion makes an AR effect successful?
If an effect makes the user look great then that will obviously help! But another important consideration is making the effect both fun for the user and funny for viewers of the effect.