Creator Spotlight: Igor Saringer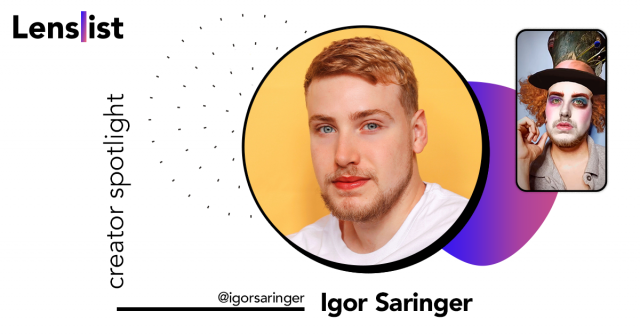 Creator from 🇧🇷 Brazil
Hi! Please, tell us something about yourself.
I'm from Brazil, São Paulo. I create filters since may 2019. I'm a Youtuber/influencer and also AR freelancer for Instagram platform.
How many effects have you created so far and for which platforms?
I use only Spark AR at the moment, for Instagram platform. I've created more than 70 filters for me and more than 80 for brands.
Name the best effects you created and briefly describe them.
For me, the best two effects I've created are Mad Hatter and Angel. Mad Hatter because the makeup, hat and hair are so real that it looks awesome. Angel because its very delicate and I love to take pics with wings, so it's my fav. Also, its a recreation of a non existing filter anymore.
Which platform for creating AR filters is your favourite and why?
Instagram, because it's the platform I create content for.
What in your opinion makes an AR effect successful?
The possibilities to try new things before doing in real life.
If there is anything else you would like to share please do it here:
Some interviews or features: teenvogue.com/story/euphoria-makeup-instagram-filtersEuphoria Makeup Instagram Filters, teenvogue.com/story/instagram-filters-makeup, vogue.es/belleza/articulos/filtros-instagram-stories-maquillaje-euphoria-serie-zendaya.