Creator Spotlight: Jorik Rosa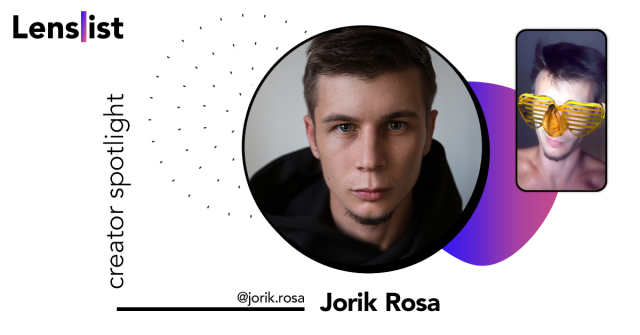 Creator from 🇺🇦 Ukraine
Hi Jorik! Please, tell us something about yourself.
I have started my career as a photographer, after a few years I also started creating videos and learning graphic design. I was lucky to work at many clubs, also on a few music labels with a lot of artists and beauty salons, and even a dolphinarium :). And on top of that was shooting the music video for Chris Willis – Feelings for you which I directed. After that, I took part in shooting a 360 music video for Freaks'n'Beats EDM artist. Always learning new stuff, at the end of 2019 I came to AR. I took all my background to create my effects. Just for now, I am a freelancer.
How many effects have you created so far and for which platforms?
Over one hundred effects for IG and FB, also a few works for Snapchat.
Name the best effects you created and briefly describe them.
I really love Banana Nose cuz its a fun effect and it makes me smile, hope you too 🙂 Also I like Hair paints effect cuz it looks so cool.
Which platform for creating AR filters is your favourite and why?
Instagram definitely, because I grew up on this. It gives me an ability of showing people anything I create.
What in your opinion makes AR effects a special form of art?
It's like a dream. In your dreams there always happen something amazing and magical, so adding AR to your life is kind of the dreams become true.