Creator Spotlight: Eliana Spizzirri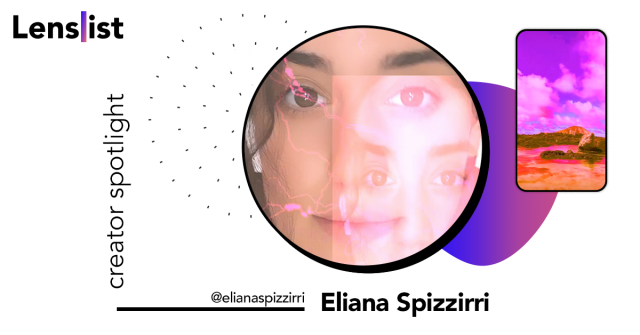 Creator from 🇺🇸 United States
Hi Eliana! Please, tell us something about yourself.
Hello! I started learning Spark AR about 7 months ago and fell in love immediately! Before Spark AR, I was doing vfx in adobe premiere and photoshop. I love AR because it brings all of my edits and ideas into "reality" allowing me to share my world on a larger scale.
How many effects have you created so far and for which platforms?
I have created over 100 Spark AR effects.
Name the best effects you created and briefly describe them.
My Favorite effect is Tangerine Dream. I love the colors and the way it changes the sky and clouds to a florescent pink combined with the orange tones! It's futuristic but also nostalgic at the same time.
Vintage Barbie – I love the pink and green tones of this filter. It is extremely flattering. I love how this effect makes everything look pink and vintage aka another dream world of mine
WONDERLAND – If my brain was an effect it would be this. I love over saturation and unrealistic colors and this effect is all of that in one. It's really fun to film with this effect.
SHERBERT is another one of my favorites. I love the dreamy rainbow vibe of this one.
Which platform for creating AR filters is your favourite and why?
Spark AR is my favorite platform. It's fun to play with and has endless possibilities!
What in your opinion makes an AR effect successful?
A successful filter to me is when I would rather look at the world through my filter 🙂
If there is anything else you would like to share please do it here:
I love all my effects equally 🙂 Try and pick your favorite!