Creator Spotlight: Marina Santarossa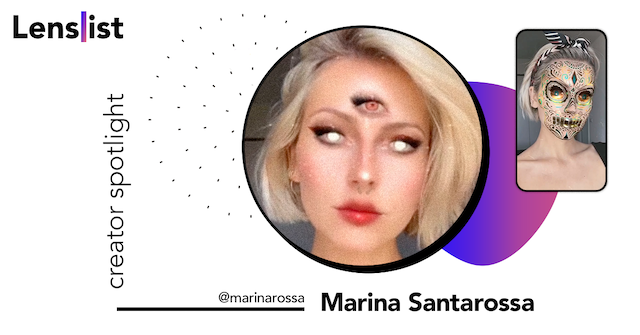 Creator from 🇨🇦 Canada
Hi, Marina! Please, tell us something about yourself.
Hello! I'm from Canada but I started creating filters while I was living in Belgium. I just moved back home to Canada but continue to create filters on a freelance basis. I now work on my own based out of Canada for clients worldwide.
How many effects have you created so far and for which platforms?
I've created over 50 filters for my own personal account on Instagram, not including the filters I've created for my clients.
Name the best effects you created and briefly describe them.
SPOOKY SZN was an effect I created for Halloween which featured a LUT, dust/grain, face distortion and different tap-to-change options of halloween makeup. This filter gained a lot of popularity (also thanks to Lenslist!). Another one of my most popular filters is journal stories, a day of the week filter with a colour LUT. This filter alone has over 10 million impressions.
Which platform for creating AR filters is your favourite and why?
Instagram is my favourite platform to create filters for because I use it the most. I think a story without a filter is boring!
What in your opinion makes an AR effect successful?
I think that the simplest effects are always the most used because they can be used more often than a very specific effect. I do think, however, that the most creative filters are the ones that push the boundaries and really transform your reality. Everyone likes to play dress up, so when a filter can change your hair colour or make you look like handsome squidward it's bound to go viral.
If there is anything else you would like to share please do it here:
Creating filters has become a huge passion and hobby of mine. I love exploring the art of augmented reality and I thank Facebook for giving us a program like Spark to be able to experiment and learn every day.