Creator Spotlight: Cédric Pereira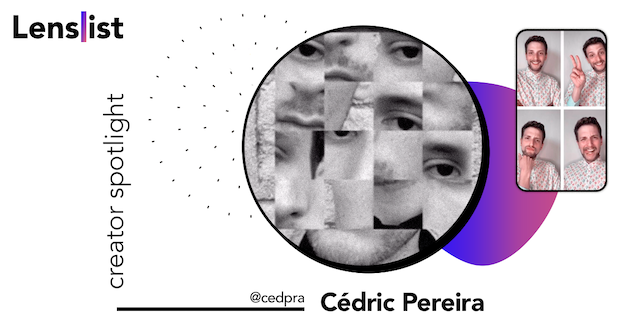 Creator from 🇫🇷 France
Hi, Cédric! Please, tell us something about yourself.
I'm a freelance product designer for more than 3 years and I'm creating AR filters for a year now. I am also delighted to be part of the Awwwards jury for 2 years.
How many effects have you created so far and for which platforms?
More than 20 filters
Name the best effects you created and briefly describe them.
"Photo Booth" and "Puzzled".
Photo Booth was a really challenging filter to create especially because there are many color and vintage modes, several textures, etc. – I spent a lot of time to polish all these details. Moreover the logic under the hood is quite complex and it was interesting to try creating the best experience ever whatever the device.
I'm really proud of my filter named Puzzled that I created when I wasn't really doing well. I particularly like what it represents for me: melancholy, incomprehension, hesitation, mystery. It is clearly not the most popular, but I also enjoy the graphics rendering which changes every time according to the modes, people, and situations.
Which platform for creating AR filters is your favourite and why?
I would say Spark AR Studio (IG / FB), the software is really great and easy to use. Templates help a lot to dive into AR effect really quickly especially if you are a newbie.To be really fare I'm not an active user of Snapchat and I do not spend much time on Lens Studio.
What in your opinion makes an AR effect successful?
I think people are fascinated by the fact that they can create their own world or enhance their current environment. There is something almost magical in the AR effect. We all agree that effects cause a lot of emotions more than anything else.
If there is anything else you would like to share please do it here:
Thanks for what you're doing Lenslist!