Creator Spotlight: Alif Devan Rizky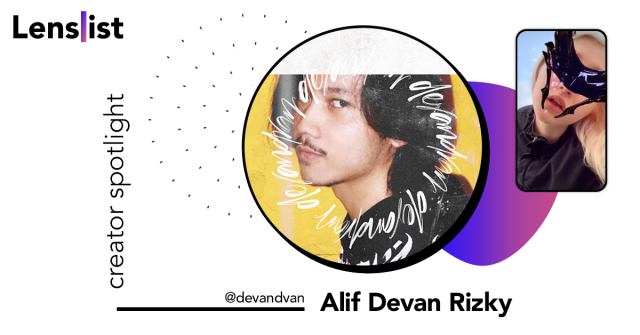 Creator from 🇮🇩 Indonesia
Hi, Devan! Please, tell us something about yourself.
Hi! I'm Devan from Indonesia. I've been creating Instagram AR filters since June 2019. And I'm a lettering and calligraphy artist. I'm still learning in AR and 3D stuff.
How many effects have you created so far and for which platforms?
I've created 18 effects on Instagram, 1 on Facebook and Snapchat.
Name the best effects you created and briefly describe them.
CYBERPUИK, one of my favorite filter. Just a simple idea that gives you a futuristic vibe and turns your face into a robot. All the assets are made by me.
INFIპЯ₳У, still a simple idea. Custom LUT made with Spark AR Studio (yes, not on Lightroom or Photoshop) and I put my calligraphy artwork on it. If you tap the screen, the calligraphy will appear and follow your face movements.
EXODIA, this filter is one of my favorite AR calligraphy experiment and one of the most difficult AR filter I've ever made. That filter has 2 face tracking, custom 3D objects, custom animation, custom texture materials and custom interactions/instructions.
I've attached the link to my process below:
And I have spent 2 weeks creating that filter.That was so difficult for me since I'm not an expert in 3D. I've learned so much new 3D techniques+experiences when creating that filter.
Which platform for creating AR filters is your favourite and why?
Instagram. Because there is a lot of active audience on that platform.
What in your opinion makes an AR effect successful?
For me, if the filter has a unique concept/style and was made with love by the creator. It doesn't matter if it's difficult or not. Stop trying to please the algorithm. Make art for art's sake, make art for people, make art for you but don't chase the numbers.