Creator Spotlight: Anne Horel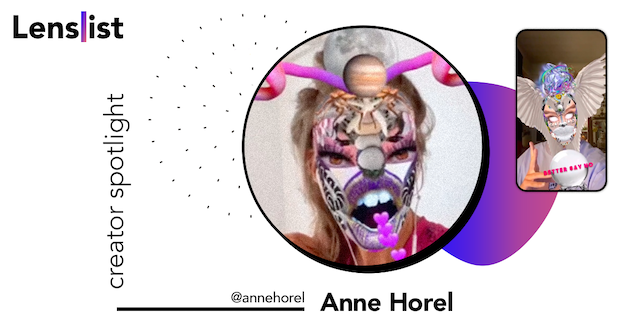 Creator from 🇫🇷 France
Hi, Anne! Please, tell us something about yourself.
I am Anne Horel, a French digital artist based in Paris. I've been using social media as a creative tool for 10 years now: GIPHY, Facebook, Vine, Instagram – I love them all!
I am also a director represented by Partizan and I make music videos, ads, social media content, short movies… I've been using Spark AR since January and it means reaching the next level of my creativity for me! I love it so much and have so much fun experimenting with it. Looking forward to making branded content in filters too!
How many effects have you created so far and for which platforms?
50 on Instagram.
Name the best effects you created and briefly describe them.
The Oracle: I like this one because I'm a tarot reader and I was thinking about a divination filter for a while 😏
Hey Moon: a weeping mask honoring the moon because I'm a witch 🌝💙
Which platform for creating AR filters is your favourite and why?
Instagram. I LOVE Spark AR. I just downloaded Lens Studio and I'm so excited to play around with it! For now I'm concentrating on Instagram though 🥰
What in your opinion makes an AR effect successful?
They are a reflection of my art, which makes them unique 😎
If there is anything else you would like to share please do it here:
I love making filters so much 😭❤️