Creator Spotlight: Tyleciea Zachry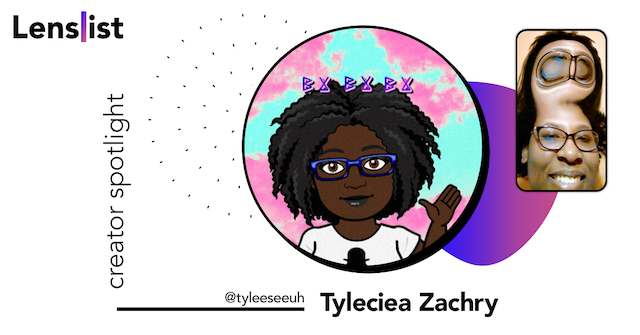 Creator from 🇺🇸 United States
Hi, Tyleciea! Please, tell us something about yourself.
I'm Tyleciea Zachry, an freelance artist in Kansas. I've been creating AR filters since 2018.
How many effects have you created so far and for which platforms?
I've published over 400 lenses and 10 Spark AR filters.
Name the best effects you created and briefly describe them.
Pet thoughts – it tells you what your cat or dog is thinking.
Butterfly stripes – rainbow butterfly striped background, gives the user iridescent butterfly mask.
Which platform for creating AR filters is your favourite and why?
I like Lens Studio, it was my first introduction into creating AR but I find it easier to experiment with.
What in your opinion makes an AR effect successful?
An effect that makes the user excited about AR, it's either very funny or very beautiful.