Creator Spotlight: Alexander Dushko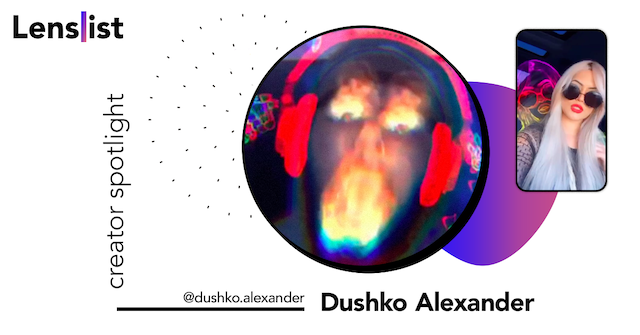 Creator from 🇺🇦 Ukraine
Hi, Alexander! Please, tell us something about yourself.
I am an AR filter developer from Ukraine. I created a small company Socium AR Studio, I am the CEO and co-founder of it. I also work with SMM marketing and test innovations of Instagram. I started working on AR filters since its beta testing, and more actively since the beginning of October 2019.
How many effects have you created so far and for which platforms?
There is over 50 for Instagram / Facebook.
Name the best three effects you created and briefly describe them.
My favorite filter is the Rainbow gimini. The filter is pretty much loved for its colorful "outline" lines that reflect you as a "twin". Basically, this filter is used in incendiary dances. Very popular in South America, Brazil. The filter is already used and continues to be used by more than 17,000,000 ML users from all over the world.
The second filter mask is Music Challenge. A musical mask with iridescent colors, an effect that depends on the bitrate of the music, a glitch effect, the effect of scattering notes from headphones flying when recording Stoties and, of course, fire when you open your mouth will create an enchanting atmosphere.
The third filter mask is Emoji sound. It is an interactive mask with emotions and music. It contains triggers as such:
Blinking mode
Head reaction mode when nodding down "YES"
Smile reaction mode – on / off halves of eyes
Head reaction mode when opening mouth and surprise "WOW"
Side shake mode "NO"
Tap on the screen – audio accompaniment from the music bitrate
Conversation mode when recording video
Which platform for creating AR filters is your favourite and why?
Most of all I like to create for Instagram, because it's the most widespread and global platform in the world.
What in your opinion makes an AR effect successful?
I believe that this is primarily an idea, personality, creativity, presentation, and technical aspects.