Creator Spotlight: Abbas Sajad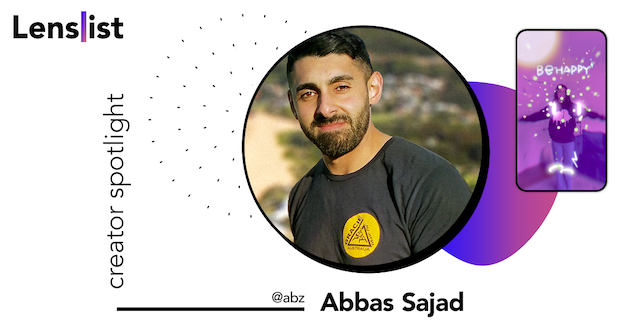 Creator from 🇦🇺 Australia
Hi, Abbas! Please, tell us something about yourself.
My name is Abbas; I'm a freelance designer based in Sydney, Australia. I Specialise in creating AR filters for Snapchat, Instagram and Facebook. I come from a design & illustration background and have been creating AR experiences on Snapchat for a few a years now and happen to be an Official Snapchat Lens Creator.
How many effects have you created so far and for which platforms?
I've created over 40-50+ AR effects over the past few years. Most on Snapchat, but also for Instagram and Facebook! I experiment a lot and like to try out new things; sometimes, I revisit old ideas and try to come up with new ways to improve on them.
Name the best three effects you created and briefly describe them.
Three of my personal favourite AR effects that I have created are Be Happy, Katsquat City and Soccer Ball Juggle.
Be Happy is a Snapchat Lens I made to accompany Dixie D'amelio's new song. It uses one of Lens Studio's new feature's which allows the user to trigger different effects depending on their body poses. The main direction behind the lens was that its ok to have a bad day now and then. As the day passes, there's always a new day waiting for you. The song's lyrics have a heavy emphasis on different types of emotions, mostly ones when you're feeling down. I've always thought that the weather was a reflection of different kinds of feelings. For example, when you're feeling down, you'd relate more to rain and dark clouds, while happiness felt more like a sunny day. So when the user was to throw their hands in the air, the rain and dark clouds would disperse, bringing in the bright sun.
Katsquat City is retro fitness inspired Snapchat game Lens, where the user has to Squat to play the game. However, the lens is so versatile it can be played by even performing other exercises—the game centres around an original character of mine named Kat, who happens to be a tracksuit wearing cat that collects fish-coins while avoiding the city's obstacles.
Which platform for creating AR filters is your favourite and why?
I enjoy creating AR effects on Snapchat, Facebook and Instagram. However, I have a soft spot Snapchat since it was the platform that introduced me to Lens Studio and the OLC community. I've learned so much through that platform alone, and have been fortunate enough to have made custom effects for some big brands and personalities.
What in your opinion makes an AR effect successful?
I believe an AR effect has a few key factors which will determine if it is successful. Knowing the likes/dislikes of your intended audience makes it easier to design an effect that they will enjoy. Your audience will influence your design decisions, style, and overall mood. Great design is a compromise between you and your audience. You're only sharing your vision with them when you genuinely understand them. Success isn't about views; it's about knowing and connecting with people.
Contact: Linkedin Twitter Website