Creator Spotlight: Tato Fernandez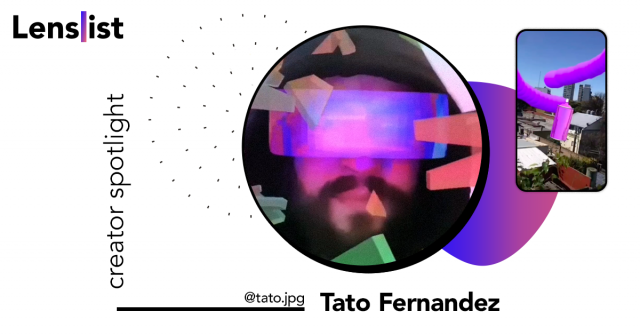 Creator from 🇦🇷 Argentina
Hi, Tato! Please, tell us something about yourself.
I'm an Artistic Director for Theater, TV, and Live Shows. I'm from Argentina, based in Buenos Aires, but got the chance to travel all around the world with my work. As a Set designer I always like to use new technologies and video to add a new layer of impact on the audience, that's why I started using AR, trying to make a bigger experience, not restraint to the physical world rules, especially with touring shows or small budget companies. Now the audience in a concert the first thing they do is to take their phones and start recording, the idea is to take back the control of the narrative and add more layers to the show, the sky (and internet connection is the limit, hahaha)
How many effects have you created so far and for which platforms?
I created more than 100 effects, most of them just for fun, trying ideas that pop up in my mind, mostly for IG, Snapchat and 8th Wall. I got the chance to work for several artists and brands, like: Thalia, Shakira, CNCO, Duki, Nicki Nicole, Anuel, Paloma Mami, MTV Latin America and Brazil, Sony Music among others.
Name the best three effects you created and briefly describe them.
I think my 3 favorites effects are:
3D#SpRÂY: I always wanted to draw in the air, the idea came when I was playing with particles one day and suddenly I crack it. The best thing of this effect was that got feature in the Top 10 Spark AR Effects of 2019 🙌🎉😍https://sparkar.facebook.com/blog/top-10-spark-ar-effects-of-2019/
RAINBOWGlass: This one was my first IG effect, the idea was to break the screen and escape reality, bring a little color to everyday life.
FaceBoomBox: This is my last personal effect, never did deformations or audio-reactive effects, so this is the result of mixing those two elements in one lens. The idea was to make something fun and playful for the users.
Which platform for creating AR filters is your favourite and why?
I think is IG, especially for the feedback from the users and the community. I love Spark AR and all the good friends that i made on the Spark Ar Community, it's been a huge learning experience full of great Masters .
What in your opinion makes an AR effect successful?
You never know, I think the key is to be original and try to create something that the users can feel they own it, that is a part of their personality. Give them a tool to express something, tell a story on their own way or just make their friend laugh or feel their mood.