Creator Spotlight: Roman Pillai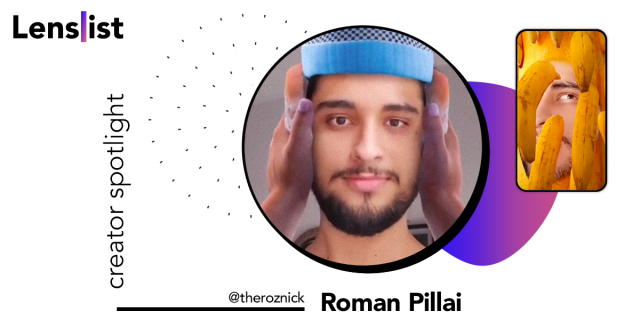 Creator from 🇮🇳 India
Hi, Roman! Please, tell us something about yourself.
I'm a freelance motion designer from India. My background is in 3D motion graphics and animations. I've recently delved into the world of AR around in the beginning of 2020 and had been having a lot of success with it and have also made couple of YouTube tutorials on Spark AR.
All of my filters have a strong design language – believability, realism, and interactivity.
How many effects have you created so far and for which platforms?
I've made 7 filters so far for my Instagram page and a couple more for clients that I've worked with.
Name the best three effects you created and briefly describe them.
Idiot Sandwich – Probably my most favorite and my best looking filter so far! I had a lot of fun working on it since it was based on an early 2015 viral meme of Gordon Ramsey. I wish he would one day try the filter out, that would be amazing!
Banana – This was also a very fun project to work on. It was my first real attempt at making a realistic and a dumb but fun filter. It's just a big banana with many smaller bananas attached to it.
Cone Hat – The challenge with this one was to incorporate as much detail onto the hat while also making sure that it's lightweight on file size, realistic and interactive.
Which platform for creating AR filters is your favourite and why?
I've only tried Spark AR so far but I've heard many good things about Snapchat's Lens Studio. I wish some features could be ported over to Spark AR in the future like the hand tracker, feet tracker, hair segmentation, and many more.
What in your opinion makes an AR effect successful?
I think for me what makes a filter standout is believability and interactivity. I've been doing 3D for a long time and easily fit into this category of making such filters.
If there is anything else you would like to share please do it here.
Augmented Reality is not that hard to get into. I think Spark AR is a very beginner friendly gateway into the world of AR. If you're a 3D animator/modeller/designer or someone who has a basic understanding of 3D, I highly recommend you to try out Spark AR as it opens up a whole ocean of new opportunities.