Creator Spotlight: Ran Bensimon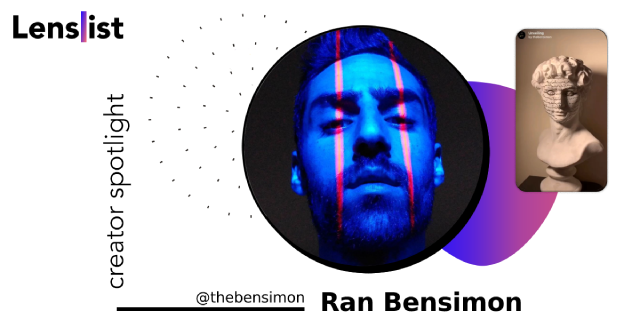 Creator from 🇮🇱 Israel/ 🇫🇷 France
Hi, Ran! Please, tell us something about yourself.
I'm a freelancer filmmaker, based in Jerusalem and Paris. I studied art and experimental Cinema art Bezalel Academy of Arts and Design, Jerusalem. My work is influenced both by the past, in the form of classical arts, and by a look into our digital future. Coming from a gaming background, in my video works I use mixed media to blur the lines between the real world and the virtual world by mixing them together. This is how I came to learn of AR, VR and XR and recently been integrating it more and more into my work, researching ways to bring it into the world of art. At the age of 14 I used to create 3D models and renders for fun, one of my models also participated in ""Miss Digital Universe"" contest for virtual models, it was my introduction to this world, that never was foreign for me, but with AR and filters, my creative journey from video to Augmented Reality started in mid 2019.
Since then my AR works revolve around topics like Digital Fashion, Augmented Reality in Museums and Instagram AR Filters.
How many effects have you created so far and for which platforms?
More than 40 effects overall, mostly for Instagram.
Name the best three effects you created and briefly describe them.
Unveiling: this is one of my earliest works, inspired by Iranian video artist Shirin Neshat who's works talk about freedom and liberation through poems written on her face or her portraits faces. I loved creating this filter and see how people engage with art though AR.
Étoile: Facial jewelery is something we see more and more in the fashion world. Being able to create an AR version of a jewelry that reacts and acts naturally on the user's face is something that in my opinion is crucial to bring these world closer and create digital fashion.
Flowery gold: this is the second complex physics filter I made (first one was Medusa [erupting power] my Influence for this one comes from French antique markets. Since the Renaissance through baroque to classical art, flowers and especially golden flowers had been used for various decorative purpose. It's a thing that always fascinated me and I wanted to give it an expression in augmented reality. I also created a tutorial with steps of this creation, I think it's super important to share knowledge and give back to the community.
Which platform for creating AR filters is your favourite and why?
I find Instagram more interesting because it's based on posts that anchors the creations giving them a solid base. Unlike Snapchat for example where things feels more temporary.
What in your opinion makes an AR effect successful?
When it serves itss purpose in augmenting the reality. In my opinion, an AR effect should be an experience, like watching a movie or a short film, should be engaging, make the user wonder and explore about its meanings and have added value.
If there is anything else you would like to share please do it here.
Together with art, the direction of digital fashion is also something that guides me in my creations. I believe that we are now on the interface between many worlds that AR can bring together and I see it in action almost every day. As part of my tries to bring more awareness to how filters can be used, I'm often collaborating with artists/designers/agencies. An example for this is "Scouting Engine", a filter I made for @eva_engines – a digital model scouting agency in Paris who does scouting with AI. The filter is a more illustrative translation of their engine. By using the filter, the agency is engaging with potential models who wants to be scouted. Following that I created more filters for modeling agencies looking to use this tool. Combining AR, fashion and technology to me, represent an important step towards digital fashion and the new possibilities AR and filters brings with it.