Creator Spotlight: Kevin Criado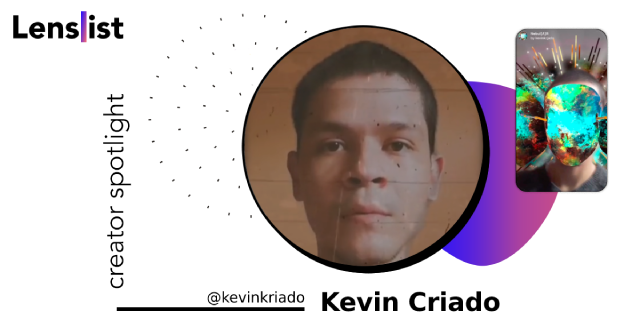 Creator from 🇨🇴 Colombia
Hi, Kevin. Please, tell us something about yourself.
I am from the city of Valledupar in Colombia. I have been creating AR filters autonomously for more than 1 year.
How many effects have you created so far and for which platforms?
40 filters for platforms like Instagram and Facebook.
Name the best three effects you created and briefly describe them.
Diablo: I wanted to recreate this entity or symbol, malevolent or not, that has accompanied the human being since the dawn and has embedded itself in the cultural and mental community in many corners of the world, making it a perfect candidate for its creation.
[AR-EGO] Conspiracy: The human mind is as powerful as it is fragile, as rational as it is irrational, as logical as it is illogical, that it can travel through spaces where chance is canceled to give way to paranoia and begin to connect points out of nowhere, this describes this effect. Our tendency to conspiracy.
Místico: magic, fantasy, consciousness, divinity, unity, symbolism, knowledge, colors, mind, psychology, soul, spirit and connections are part of our experiences, and this and much more is all you want to reflect this effect
Which platform for creating AR filters is your favourite and why?
Instagram is my favorite platform because it has functionalities that allow an expansion and expression of the filters of Augmented Reality and this makes it striking for me.
What in your opinion makes an AR effect successful?
In my opinion, there can be several factors that can make a successful effect, but in general, I would say that filters that allow to be executed in any range of devices can be more successful than those that require functions that low ranges cannot execute, Therefore, it can limit public access to the effect and another important factor is what allows people to experience the effect and that the idea or concept of the filter serves to add to the day-to-day life of anyone anywhere in the world, that is to say, that it is functional and that it can be integrated in everyday life.
If there is anything else you would like to share please do it here.
I think I could describe my work as symbolic that gets to connect with the community or with everything that we share as human beings regardless of country, creed, color, sexuality, etc. I try in my creations to send a message, an idea, a concept or an experience that connects with the mind of the user of the effects.