Creator Spotlight: Gijsbert Wahl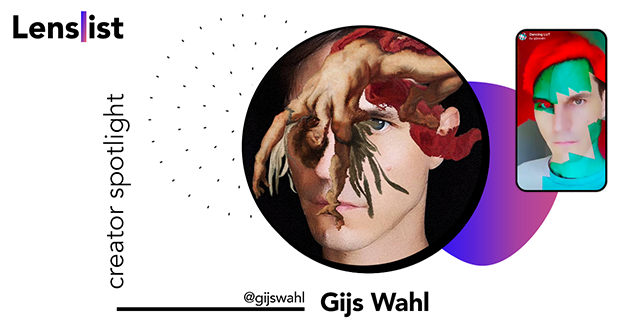 Creator from 🇳🇱 Netherlands
Please tell us something about yourself. Where are you from and were do you work? For how long have you been creating AR filters? Are you a freelancer or a member of the company specializing in AR filters? etc.
Starting in the Spark AR beta days in 2019 I have grown up with the platform, and have created many AR filters for both personal as well as commercial projects. Besides AR, I work as a freelancer in the fields of design and visual art. I studied Fine Art at the Royal Academy in the Hague, and Philosophy at the University of Amsterdam. With a background in fine art as well as philosophy, I aim to bring creativity, a strong aesthetic sense as well as a mind for conceptualizations to each project. Whether you like an effect based on the samples in my portfolio, or would like to develop something completely new and need help to conceptualize your vision, I am here here to help you making it happen.
How many effects have you created so far and for which platforms?
50+ effects for both Instagram and Snapchat.
Name the best three effects you created and briefly describe them (this effects will be featured in the article)
Three of my own favorite effects of this moment are:
Dancing LUT, which changes color and shape audioreactively with music selected by the user.
Strange Angels, uniting the user or their environment with famous characters from classical paintings.
OUtopos, which displays abstract organic shapes on the users face, inserting something very alien yet alluring into the normal.
Which platform for creating AR filters is your favourite and why?
Most platforms are now upping their game and offer exciting new possibilities, but my favorite platform offering both personal interaction as well as commercial opportunities is Instagram with Spark AR.
What in your opinion makes an AR effect successful?
Augmented reality offers a whole new world of exciting ways for a vision, brand or cause to interact with the user. A successful AR effect moves beyond the user as a mere consumer of information, and can approach them instead as unique and creative individuals. AR inspires the user to actively unite the given content with the users own context, to be creative, and to share each unique result with their friends.
So I believe successful AR combines the best of both worlds: the informative and presentational strengths of the digital with the uniqueness of each users own physical reality. By bridging this gap, you are able to craft powerful, personal experiences.