Creator Spotlight: Denis Rossiev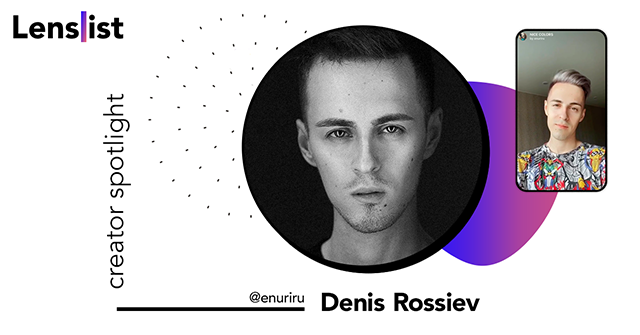 Creator from 🇷🇺 Russia
Please tell us something about yourself. Where are you from and were do you work? For how long have you been creating AR filters? Are you a freelancer or a member of the company specializing in AR filters? etc.
I'm a designer and creative director from Siberia. I've been creating filters since closed beta. I mostly work on my own business.
How many effects have you created so far and for which platforms?
More than 50 for Instagram/Facebook.
Name the best three effects you created and briefly describe them (this effects will be featured in the article)
These effects are not the most popular, but definitely the most interesting:
Face Art – one of the most interactive effects on Instagram for unleashing your creativity. Draw anything on your face in real time, export your drawings and share with friends who can load in into the effect.
Time Loop – capture a part of space and time and wrap it into infinite loop. Spawn unlimited copies in space and see how it lives.
Nice Colors– professional image editor inside your stories. Choose a filter, then tap and adjust exposure, contrast, warmth and a lot of other parameters to achieve the best look. The filter auto-saves your settings so if you want to shoot another story you don't need to do it all again."
Which platform for creating AR filters is your favourite and why?
Instagram. Mostly because it's more worldwide than Snapchat or any other platform.
What in your opinion makes an AR effect successful?
Original idea & simplicity. Complex filters are good, but users need just one button and it's standard Instagram shoot button.