AR talks | Charly Bourgain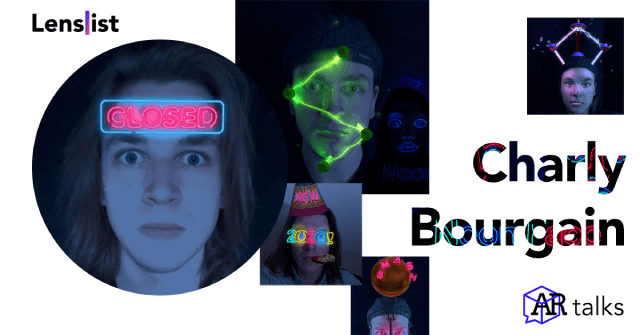 Let's welcome Charly Bourgain, AR creator from France who is well known in the community from his characteristic, neon filters! We've had a chance to ask him some questions about his road to becoming filter developer and his unique style.
Hi, Charly! As you've mentioned during our meeting, you don't have designer background, and yet you're an AR creator and a freelancer for a few months now. How did it happen?
Last summer a friend sent me an interview that Ramen Polanski gave to French media about Instagram filters. He thought that it might interest me because I've always enjoyed trying emerging technologies and finding new ways to express myself. Augmented reality had been eyeing me for a while, but until then I believed that it was a field reserved for engineers. I was not aware that tools like Spark AR Studio existed. At first I thought it was cool, but I didn't see the full artistic potential behind it. It wasn't until a few months later, in October, that I finally installed the software.
As you said, I don't have a designer background. In fact, I studied journalism in Paris and worked a bit in this area. But I have been playing with digital tools since I was old enough to use a computer. So when I started doing filters a few months ago, I already had some knowledge in graphics, 3D modeling and a little bit of coding that I learned by myself.
One of the qualities of true art is a consistency of style. Your AR filters with neon lights and dark scenery are very distinctive. Could you tell us more about your approach to AR effects and what inspires you?
If I had to describe my style, I would say that it is some kind of chiaroscuro cyberpunk.
I took the basic principle of chiaroscuro which is the use of strong contrasts between light and dark, and I added a futuristic touch with those bright neon lights and flashy colors.
It's funny because I was influenced by Ridley Scott's movie "Blade Runner" which takes place when I started creating filters, in 2019. It also coincides with the release of the new CD Projekt video game called "Cyberpunk". I don't know, maybe it's gonna be the style of this new decade.
Are you particularly fond of any of your effects? Is there an interesting story behind it?
My favorite filter is always the one I'm working on. I don't like to dwell on past work, I invariably look to the future and what can be done to improve my skills. For example, I never updated any of my old effects, even those that contain errors. However, it's probably not the smartest thing to do because the technology is evolving fast and things can break. Just like a painting, AR creations sometimes need to be refurbished.
But to answer your question, I'm really proud of the filter I just finished. At the moment, I can't publish it because it uses some features that are not yet available to everyone. I can't tell you much about it, but it will significantly change the way I work with neon lights and glow effects.
Wow, now we can't wait for this new effect of yours!
We know that you're from France and you used to be a journalist. How does your background affect your work as an AR creator?
I don't think my past as a journalist has the slightest influence on my work. There's no artistic value in journalism. On the other hand, the fact that I am French probably played a role in this.
Just like French New Wave rejected filmmaking conventions back in the days, I reject everything that is popular in the filter community right now. I don't care about memes, trends or activism, I just want to experiment and create something that I find beautiful. But maybe it's not a French trait, maybe I'm just a contrarian.
Is Augmented Reality, and social media AR in particular, popular in France? Do you recognize some trends regarding Instagram AR there?
If I had to trust my Instagram statistics, I would say that France don't care that much about augmented reality. But here's a thing about French people, If you don't create content in French they don't care about what you have to say. The fact that many creators, including myself, only use English to communicate doesn't help to spread awareness about augmented reality. But I think things will change with the democratization of AR glasses.
Charly, thank you very much for your time and your interesting remarks! I hope we'll see much more of your AR filters and wish you luck in your work as a freelancer.

Dear reader, if you want Charly to create Instagram filter for you, don't hesitate and send him a brief! 😊