Sharing Links to Instagram AR Effects Is Now Possible – Learn How They Can Help Your Campaign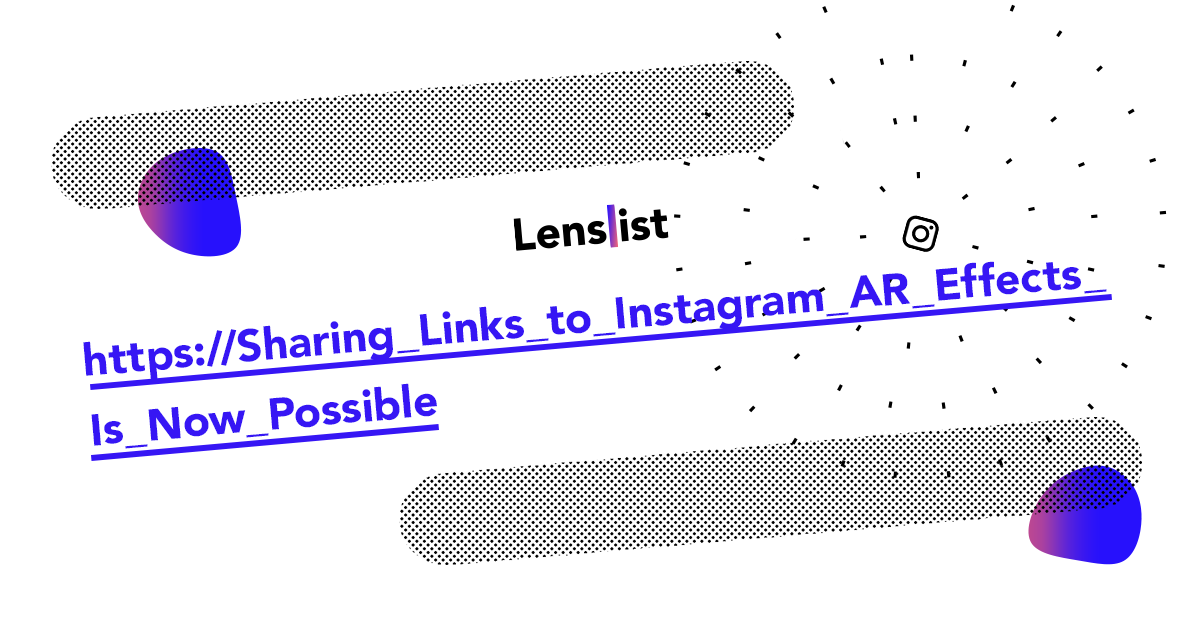 Every AR effect published on Instagram, Facebook or Snapchat has its own URL. On Instagram, they look similar to this one:
https://www.instagram.com/a/r/?effect_id=990686051271204
But till last week, Instagram was the only one that didn't make all of the effect links accessible for everyone. The only way to open an Instagram effect was directly through Stories, Effects Gallery and the owner's profile – or if the owner of the effect has decided to publish the link himself. Now, anyone can copy and share a link to any Instagram AR effect. And to be honest, our team at Lenslist couldn't be much happier – I'll explain why later 😉 But first…
How to share Instagram AR effect link?
You can share a link to any AR effect that you are currently using, whether you found it in the Effects Gallery, in a Story or in the Effects Tab on the owner's IG profile. All you have to do is open the AR effect > open 'More' > tap Share Effect Link > choose the app to share it with. When you have a link to the AR effect, you are able to open it from anywhere on your smartphone – it opens the Instagram camera and automatically launches the AR effect.
Why is this so helpful for marketers?
As you probably know, Lenslist has a huge database of social media AR effects available to everyone. The problem we had with Instagram was that many times we couldn't point you directly to the effect you saw on Lenslist to try it yourself, rather than linking to the effect owner's IG profile. Now, you can be sure that any new AR effect that pops up on Lenslist will be equipped with its direct URL, so you don't have to scroll through all the creator's effects to find it.
What's even more important is that it applies to many other situations in which links to AR effects prove to be extremely useful. If you're a marketer or a digital manager who wants to order an AR effect, sharing a link to the AR effect serving as an inspiration will surely help with the process of coming up with the right idea for your own campaign.
How can you use the AR effect link to boost your campaign?
Distribution of an AR effect is one of the crucial aspects of planning a successful AR campaign. Some time ago we published an article where you will find a helpful list of virtually every possible way in which an effect can be distributed. Some of those ways, in fact, are available thanks to the fact that AR effects have their own unique URLs. Here are some of them:
QR codes are a perfect way to use an AR effect as a bonus for purchasing the product or make it easily accessible in a physical world, eg. on a ticket for the event;
Messenger Chatbots are quite frequently used to organize contests that use AR effects and AR games;
Mobile apps & websites – it is smart to share the effect link through any of your mediums that are often used by mobile users. Remember though that the users also need to own Instagram app to view the effect.
Google AdSense – thanks to effect links, Facebook and Instagram ads aren't the only two that you can use to promote your AR effect;
The conclusion is that thanks to accessible URLs and the popularity of social media apps, AR effects are extremely flexible when it comes to sharing them with the world. Despite being an integral part of the Facebook ecosystem, they can exist as an almost independent AR mini-apps. If you have any unusual idea for the AR effect and don't know if it's worth a try, feel free to ask Lenslist Team!