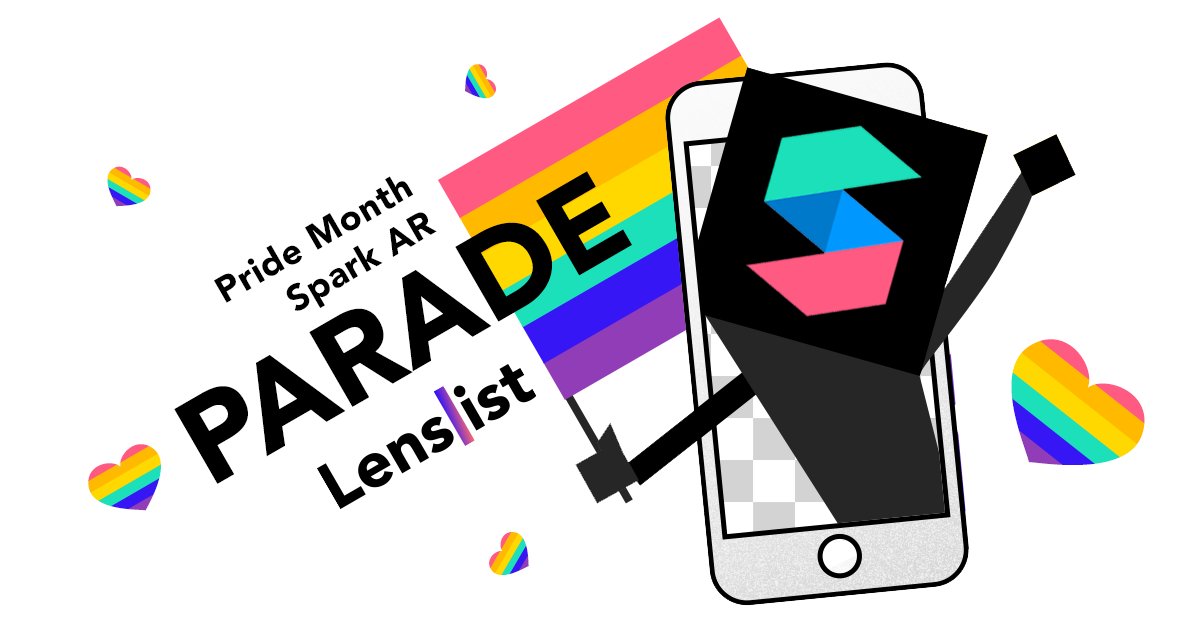 Hello fellow Sparkers, Creators, and AR Heads! With Pride Month at its best, we couldn't help ourselves but to gather all the beautiful, colorful lenses from Facebook and Instagram, and feature them in our blogpost!
For your convenience, we have tested over fifty of the pride-related effects and selected the 16 most appealing ones. Among them, you will find lenses coming from AR superstars such as Luke Hurd, Piotar Boa, Chris Price, Marc Wakefield, or Tom Emrich using all sorts of techniques like double exposure, body tracking, or implementation of astonishing graphics to catch your eye. Without further adieu, let's get to it!
Chris Price
Let us kick this off with something special – a list of Pride Month AR Effects coming from the rising star of the Community, the man himself, Chris Price!
Chris
really has outdone himself this time, preparing immense amounts of creative content for this occasion. For instance, "
3rdEye Overload
" will turn you into a cyborg-looking pride machine. The iris alteration really got us.
His second effect, "Star Pride", is a mixture of segmentation, face mask, and a body tracking feature. With this one, you can really express yourself in your Instagram stories. Last but not least, "Equality". A book-like example of segmentation eliminating the ambient noise. Check it out and see for yourself that life can be all rainbows and unicorns.
Nulitics
The team of Nulitics, a solution provider and system integrator specializing in combining Digital and Technology, have also done their homework and prepared something for the Pride Month participants – "Pride Day".
Iffort
Iffort, a social media and digital consulting agency, has been heavily involved in the AR Pride Parade this month. Apart from being active on Facebook and Instagram and promoting #pride, they have also released a special AR filter called "Celebrating Pride".
Marc Wakefield
Wherever he appears, great AR content tends to pop-up. This time Marc tried to visualize his interpretation of Pride by developing "
Electric Pride
".
Cody Meshberger
Cody produced an AR effect called "Angel Wings", which is an angelic take on the topic of equality and pride.
Zensations
Now, this one will be a real treat for all of the AR Paraders – "United in Diversity" coming from the Digital Marketing and Web Design company Zensations. Be sure to check this one out if you really want to create a special Facebook Story.
Lianne Tokey
"
Rainbow Eyes
" – a simple yet extremely appealing AR Mask to wear on a digital AR Parade. Open your mouth while using it to add some extra glitter.
Jerzy Pilch
With dozens of AR works, Jerzy Pilch is amongst one of the greatest creators heavily committed in this year's #PrideMonth. It wasn't an easy task to pick and showcase only one of his AR effects. Nevertheless, we present to you the
Shades of Pride
.
Piotar Boa
There is something for everyone here, including Gamers! Fabio a.k.a. Piotar Boa has taken care of it by creating the "
Rainbow Game EGG
".
Guy Assif
With Guy's Facebook Camera Effect, "
Space for Everyone
", you can make your environment more #Proud. Fire this effect up to smoothen your face and launch a flock of wild rainbow circles.
Amber Arcadia
Amber, part-time Hogwarts professor, keeps a high standard of her works as usual. Her "
Pride
" Instagram effect took stories all over the platform by storm.
Luke Hurd
Through "
Pride Cat
", Luke expressed his own twisted definition of #Pride. In his interview for us, he talks about the previous iteration of this effect: "(…) I've always had a fondness for "Pickle Cat". It's irreverent, humorous, and people aren't quite sure what to do – eat the pickles? pet the cat? As long as they laugh."
Tom Emrich
Last but foremost, we are featuring two of the most vivid Tom's effects – "Wear Your Pride" and "Starry Eyed". Both of them include eyewear appropriate enough to proudly wear on a Spark AR Parade!
As it becomes visible from the examples above, it is astonishing how a single AR project can influence numerous lives of social media users. We congratulate and thank every single creator, that might have been involved in this, and every other social campaign, that could have a tangible impact on someone else's life. Keep up the good work!