AR talks | Allan Berger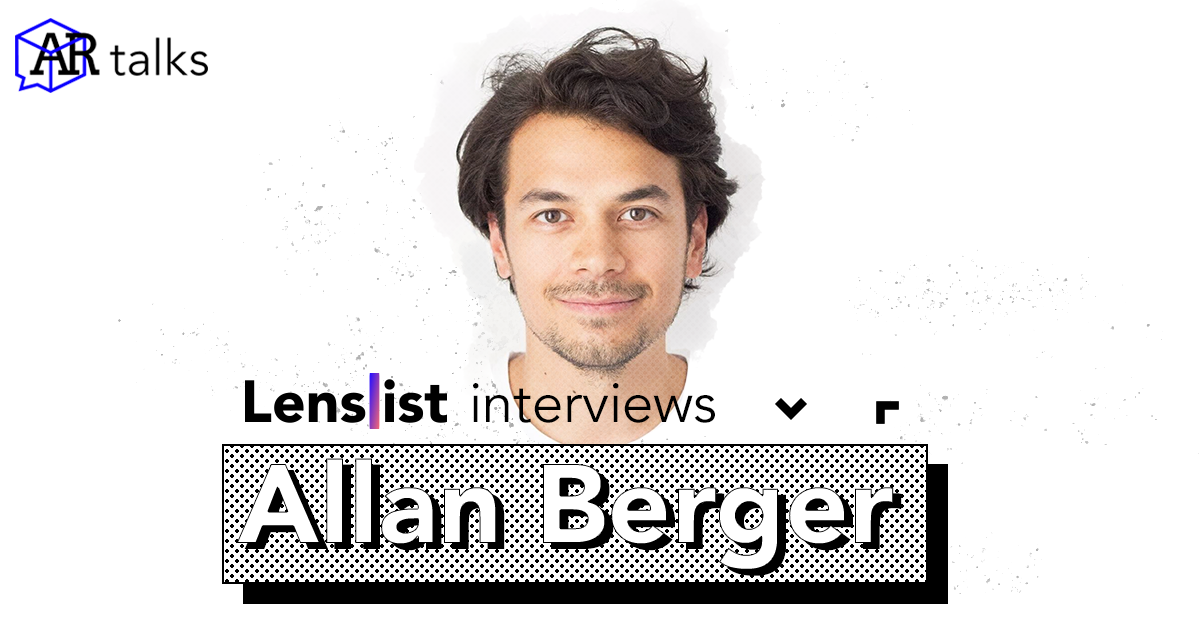 Our today's guest is an artist with background in design, software engineering and motion graphics to name a few, but most importantly a person with lots of love for Augmented Reality. Please welcome Allan Berger!
There is a great potential in Spark AR Studio – no doubt about it. You took a completely different approach on how it can be used by creating Enlive. Could you explain to us what Enlive is, how you came up with the idea and how you imagine it to make an impact on the world in the future?
Enlive is a collection of augmented reality effects created on the Facebook Augmented Reality Platform. It is a list of locations with public sights around the globe (San Francisco, London, Vienna, Berlin, …) that can be enhanced through AR effects in the Facebook Mobile App.
The idea is that people can enhance specific scenes in the real world through visuals and sounds by simply scanning a QR code that leads you to weblink with a dedicated AR effect in the Facebook Camera. It is a way for artists to express their artwork or provide more information about a specific scene. And users can get inspired, entertained and learn more.
Since effects are being viewed through the Facebook Camera these AR experiences can easily be recorded and shared online with friends on Facebook and other social media networks.
Public spaces, public installations and objects, sightseeing spots, building facades, museums and rooms come to life through dedicated Facebook AR effects.
I can imagine local AR exhibitions all around the globe as a usual thing in the near future. As for AR in general I think there will be more and more local point of interest devices to find in public spaces as well as casual wearable devices that will provide support to augment reality. And I'm very looking forward and curious to see more ways of augmented realities enhancing our lives on this planet in many different areas. May it be education, health, transportation, fashion, beauty, sports, in our homes and many more use cases in our day to day.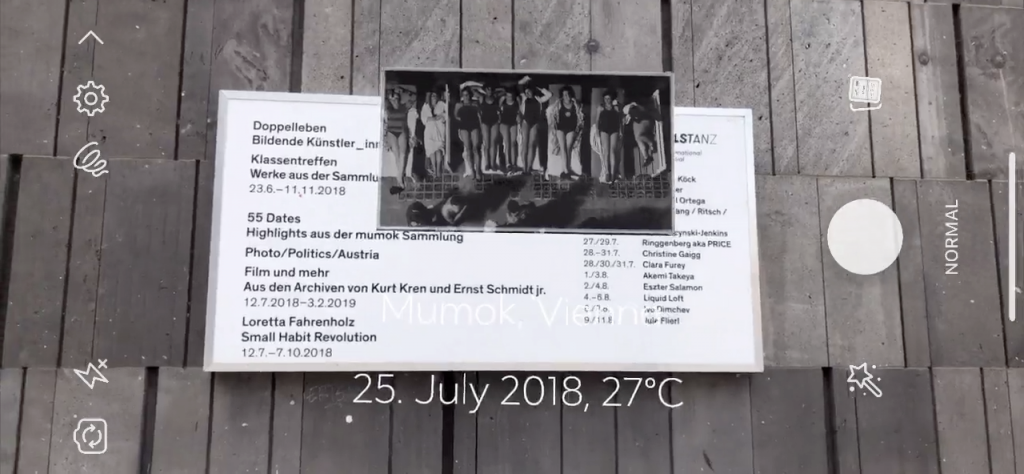 While creating Enlive you must have come to the conclusion that there are some functionalities in Spark AR Studio that would make everybody's life easier. Could you tell us if there are any functions that you are particularly looking forward to be implemented?
Spark AR Studio is an amazing platform. It's very easy to get started with creating effects as there is comprehensive documentation and lots of example projects available.
Beyond that there's a huge and helpful community where you can ask for help at any point. If this might be interesting to you I recommend following Spark AR Creators and join the Spark AR Creators Community. You'll find lots of answers by simply using the in-group search for a specific question or topic in the group. The community is very helpful, gives feedback and support if you're being stuck somewhere. Just lately Spark AR launched a Mentorship Programme to share knowledge across all experience levels of creators among each other.
Even if you're just getting started with Spark AR Studio you will be able to create your first AR effect literally in minutes.
Spark AR Studio comes with lots of nice features out of the box like the face- and hand-trackers, lighting and an integrated 3d object library in partnership with Sketchfab. Very powerful is the patch editor in addition to the scripting option where you can easily add logical parts.
You can create very complex effects with Spark AR Studio if you require to.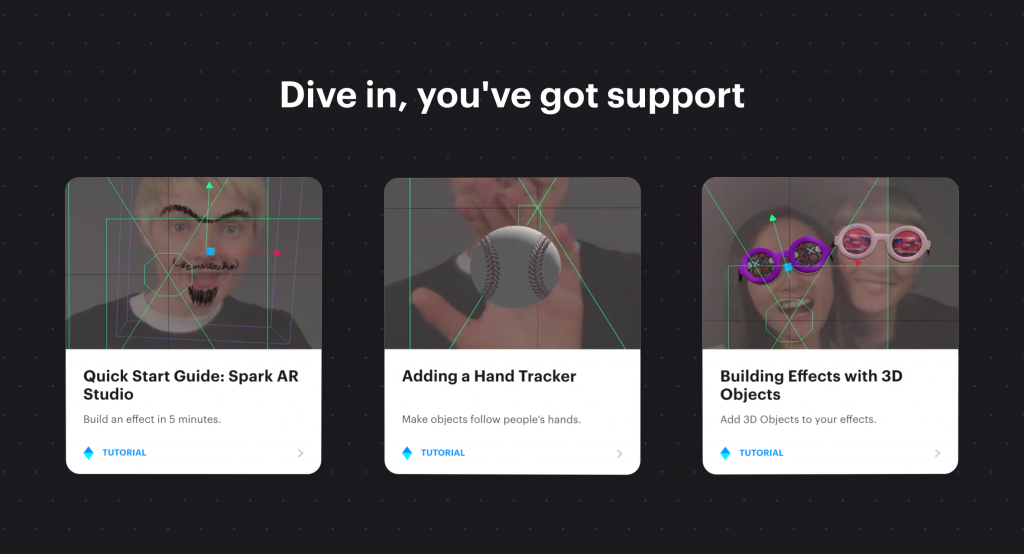 Spark AR Tutorials, Source: sparkar.com
Specific features I'm optionally looking forward to is being able to seamlessly sync audio & video and to be able to control the playback of animated external textures via scripting.
The existing ability to import animations of bones and objects is very helpful for most use cases. In addition to that it would also be nice to be able to import baked point level animations. I guess support for that will trigger many more creative ways to animate 3D objects in Spark AR.
Another valuable feature could be to have the ability to access the blend shape value of deformations for face meshes via scripting as well as via the Patch Editor.
And in addition to face- and hand-tracking which already provide a large spectrum of possibilities and expressions, body- and finger-tracking will open up even more opportunities to let us see many more exciting effects.
Are you taking advantage of Augmented Reality software created by Facebook, beside Enlive? Do you create commercial projects for any of your clients? If so, how many effects have you and your company created and can you name some of your favourite ones?
Besides Enlive as project, we're happy to be official Facebook Partners being able to provide AR related services at Enlive Studio, which is a collective of international artists & engineers based in Vienna. Of around 100+ effects that we've created for clients and for fun here are two that we've created for the Metropole Magazine:
Metropole Facebook AR October 2018 Issue:
Metropole Facebook AR November 2018 Issue:
On a different note, in mid of January I've got approved to launch AR effects on Instagram where I have fun and exciting times creating "filters" for the community, also called "effects" or "masks", which are in the categories of cute, fairy, fantasy, beauty and cyber.
Instagram designed the access to filters in the way that you need to follow their creators. In January I had around 2700 people following my account and now it increased to an incredible 50k with traction in the usage of my filters into millions of impressions in just about a month. I'm deeply impressed and thankful to the community about spreading the word by sharing photos and stories using my filters and I'm planning to release many more things for the community to explore augmented reality. And it's not only my numbers going up, they are growing incredibly among all active filter creators.
I very enjoy creating them for fun and love the playful and beautiful way for people to discover themselves in new visual ways with filters. And for artists it's a nice and fun opportunity to express themselves by creating them.
Besides face effects that are currently very trendy in the areas of fun and entertainment I'm also curious about upcoming AR filters with profound messages that we'll see going forward. The AR filter platform is an amazing playground for conveying different messages to different target audiences. Exciting times that we can be part of this and to see where it evolves to 🙂
We've noticed this huge filter trendwave occurred since effects have been released on Instagram, where do you think does this come from?
In December 2017 AR Effects for Facebook Messenger have been released for developers. I first got familiar with AR on Facebook in May 2018 where Elise Xu, Malte Goesche and Yash Sahay introduced Spark AR Studio in Vienna, Austria. It feels like around from that time on more and more artists started to experiment with AR filters.
As for the increased trend that's currently happening on Instagram from my perception a concept artist and friend Johanna Jaskowska built a base for getting familiar with AR face filters throughout the whole platform. Her exposure with her decent and elegant filters and her love to detail on the one hand triggered the awareness of filters for users as well as inspired filter creators, including myself. Make sure to check out her interviews with the Vice Magazine and Vogue (German) where she shares her thoughts on this from her view.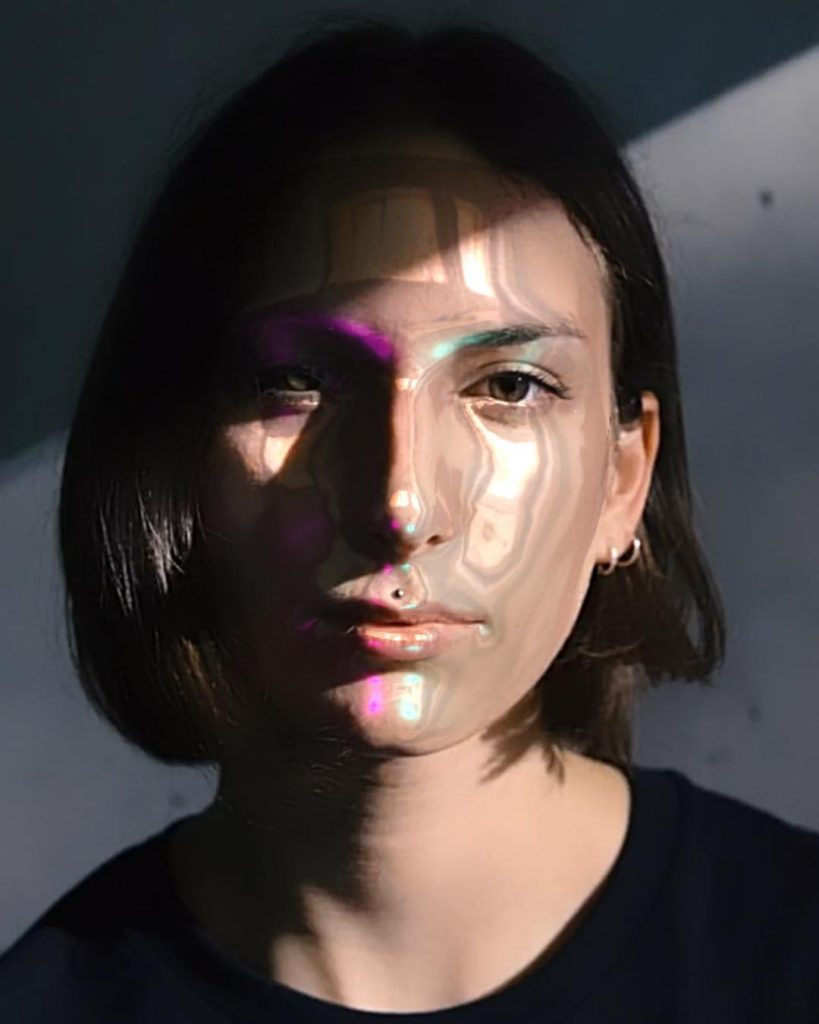 Johanna Jaskowksa, https://www.instagram.com/johwska/
I also find it very nice that creators are teaming up to create filters together as well as that there are collaborations between creators with collectives, magazines and individuals happening. Such community vibes are great.
Currently only a handful of developers have access to publish AR effects on the Instagram Effect Platform. But this may change in the near future and we all will have the opportunity to publish our personal creative effects to express ourselves through this way.
While ago, along with your team, you attended Facebook Developer Circles Hackathon and was announced Community Challenge 2018 global winner, so congratulations on that! Could you tell us more about the event itself? How does it work, would you recommend others to take part in such initiatives and finally what can be brought out of it?
Facebook regularly hosts global remote hackathons which are called "Developer Circles Community Challenges". You can join remotely from anywhere in the world and it is about building innovative solutions that give people the power to build community and bring the world closer together.
At this community challenge there were two phases. The first phase was about regional rounds and if you win a regional you succeed to participating for the global round.
I definitely encourage anyone interested in improving the current state of things, solving a problem or to help for a cause by using or enhancing your existing software app or tool with the large set of technology features that Facebook offers.
Taking part at Facebook Developer Circles Challenges and at hackathons in general are great opportunities to connect, work and have fun with people, to get creative about building exciting things, about a specific topic and to learn more about a specific platform together.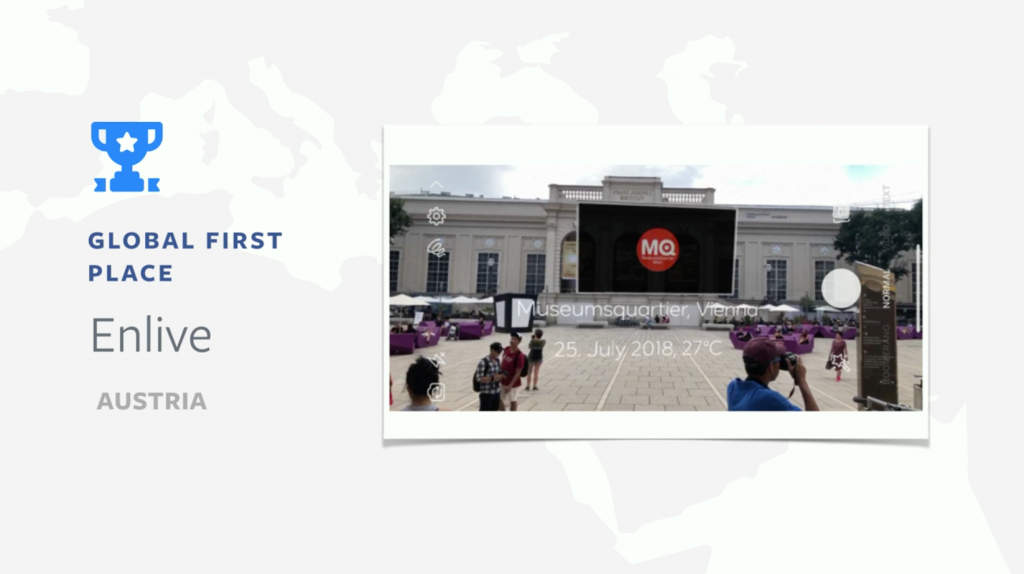 Facebook's Developer Circles Challenge 2018 Winner Announcement
AR project winning Facebook Developer Circles Hackathon is in our opinion a sign that Augmented Reality is about to make great impact on Facebook in near feature. Would you agree with such statement?
I may have answered this question partly above that I see a bright future for AR going forward, but in addition to that regarding impact I think Facebook offers great tools and the community enjoys playing around with them a lot and it would be nice to see it grow further in that way.
Augmented Reality and Virtual Reality is around since quite some time, but the era of exploring these technologies and making them accessible to a larger crowd just started. And with more technologies coming like the Oculus VR Platform for example in addition to technologies like Artificial Intelligence, Robotics and Gaming we will see much more exciting things in the upcoming years. Teleport yourself into the year 2030 and imagine how these technologies have merged. I see the world being very colorful in that regard 🙂
How creating such effects with Spark AR is different than for example creating external applications for iOS and Android both for creator and end users?
It is very easy to get started with Spark AR. Requirements are a Facebook Account, downloading Spark AR for MacOS or applying for the Spark AR Beta on Windows. After installing Spark AR you'll be able to create and submit effects on the Facebook Platform.
One aspect of publishing on Spark AR vs. developing custom AR applications is that you don't need to worry about implementing an AR engine and developing a web and mobile app that supports the engine and all other required features around the app like login, user management, maintenance, AR builder etc.
From the creator perspective you have a large audience which can try your effects on Facebook and Instagram from the moment you are starting vs. building and enabling your community from scratch when building a custom application.
From the perspective of existing Facebook users you have a large pool of effects available to discover and the ability to share your experiences with the built in social features to reach lots of your friends.
How did you end up in AR business? We know that Facebook Camera Effects are not your only area of expertise and as a founder of businesses like Lemmings.io, Mithril.ai and Blossom.co there must be a lot of things going on. Are the initiatives that you are part of somehow connected or are you an entrepreneur taking care of many different businesses simultaneously?
I'm generally curious about things and there are great opportunities to learn more everywhere. My background is in design, 3d, software engineering, and motion graphics and it is just beautiful to have the opportunity to combine all these areas with augmented reality.
Running multiple projects together with my co-founders simultaneously is possible for us because they are all somehow related around the things and topics we're interested in and doing in our day to day. It is all around getting likeminded talents and people with different skill sets (not only tech) together to learn, discover and apply latest technologies in Artificial Intelligence and Machine Learning, AR, VR, Blockchain, Chatbots, Music and more. This is where a lot of magic happens.

Lemmings at the "Hello Robot" Exhibition at the Museum of Modern Arts Vienna
How can we try your filters? And how can we support creators to spread the word about their filters?
"How to try the filters" is is one of the questions creators get asked most I guess. At this point I also want to mention again that "filters" are often also referenced as "effects" and "masks".
Instagram designed the flow to access filters like this:
1. First you have to follow filter creators to be able to see and keep their effects in your account.
(an additional positive side effect of following is that you will receive new filters automatically in the future)
2. Then you go into the Instagram Camera Mode and tap the Face Filter Icon (Smiley with glitter in the top right).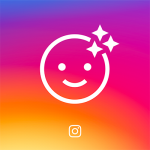 3. Search for filters randomly or search for specific creators by tapping every effect icon and looking for the creator's name.

4. Play around and share if you feel like it.

5. Additionally, if creators are being tagged in feed posts and stories creators will be able to see them and can easier reshare posts and stories.

An alternative way to discover filters is to look for them in stories of people. You will see "Effect Name by Creator's Name" in the top left corner, where you then need to tap on the effect name. An additional way is to swipe up if the camera effect is attached as a link.

I've also made a short "highlight" video series that explains this visually which you can check out and share with friends here: bit.ly/GetFilters

I'm curious to see how this is going to evolve over time, in that regard excited about the upcoming Facebook Developer Conference F8 in end of April and I'm looking forward to the platform being opened up for everyone who wants to create filters.

Thank you very much for this interview Allan! We will be looking forward for more great projects of your's!

Make sure to follow Allan to get access to his latest Instagram filters and stay up to date about upcoming ones:

Instagram: @allanberger
Facebook: https://facebook.com/allan.berger