AR talks | Kym Fiala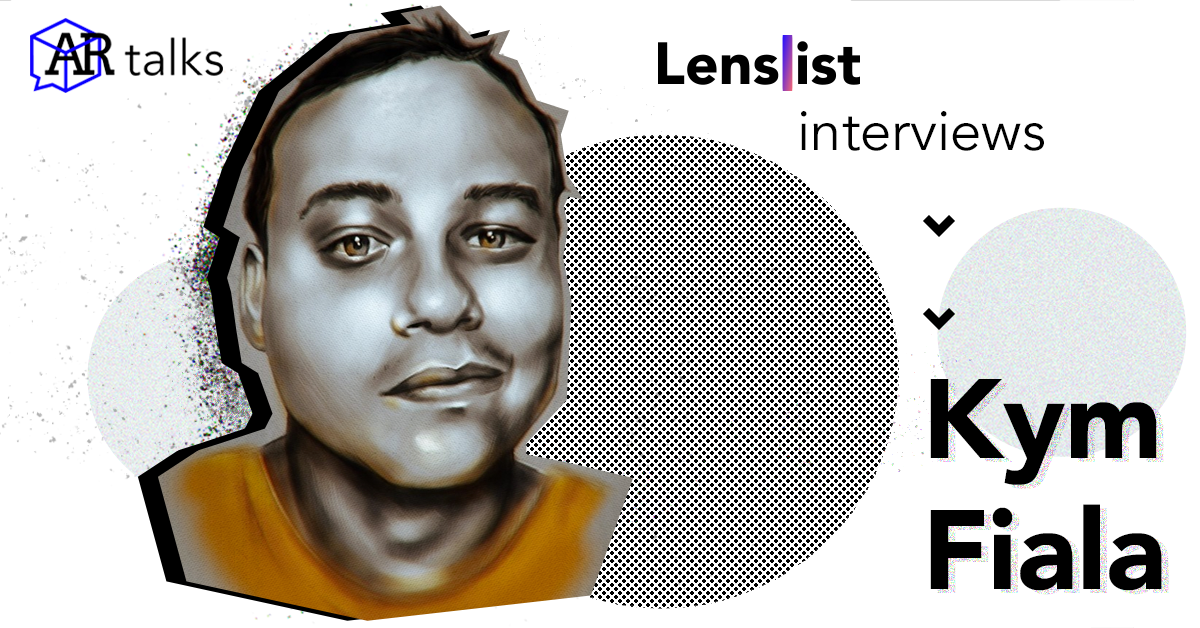 We are excited to guest Kym Fiala, one of the four Co-Founders of Pixel Chefs – the most well-known African representative of AR family, official Spark AR Partner and the author of many Snapchat, Facebook and Instagram Effects.
Hi Kym! For starters, please tell us something about yourself and your way to Augmented Reality world. Why did you decide to use your abilities in 3D art and illustration (which are presented on Kym Fiala Art) to create VR and AR experiences?
I graduated from the National School of the Arts in Johannesburg in 2002 doing fine arts. I decided to take up 3d animation and visual effect in college. At that point, I had no idea what it was about. Especially how technical it was. After seeing Finding Nemo in the second years class I fell in love with the medium and have not looked back since. There is something special about giving life to art! Giving it character. After college, I started working at a video production house where I did standard motion graphics for music videos, commercials, and corporate. Clients like Nike, Fifa, Coke… the list goes on.
After six years or so of doing motion graphics, I ended up in a digital agency. That's where my love for interactive and real-time graphics started. Also my obsession with compressing 3D models and textures to run on basic devices using AR Media and Unity Vuforia and creating AR Applications for myself (2013). Fifteen years in the industry and still having a blast!
As Pixel Chefs, almost two years old start-up from Johannesburg, you've already created many memorable AR effects, not to mention the rest of your digital work. It looks like there's an interesting story behind the teaming up of four experienced 'Digital Chefs"…
Yeah, it's kind of crazy! The three of us: Nelson, my twin brother Dylon, and I all went to college together and always spoke about the day we would run our own studio. Three years ago we all got fed up of working for others so we quit our jobs. We ended up meeting a really good guy who offered us a garage space rent-free for three months. He had faith in us and convinced us we could do it! Things just took off! Within the first month, we ended up with MTV animation work, television intros and etc., and ended up joining the Facebook Camera Effects beta group. We've also created our first filter for the Springboks – all within the first year! We are now in our third year and things are even brighter – thanks to Facebook and our clients!
Which ones of your AR effects are your favourite or were the biggest challenge? What makes an AR experience special?
My favourite still has to be our first one created for a client which was the Springbok effect. It had so many beautiful details. The fur on the headband was animated when you opened your mouth. So many animations and models, all compressed to under 2mb. It was so challenging to make because Spark AR was so basic then. The other challenging one was when Ford called us asking if we could track a car!
Your Snapchat Lens created for Madiba's 100th birthday was a great way to celebrate his legacy. What impact does your heritage have on your work? Is AR popular in South Africa?
My brother Dylon actually created that effect. He illustrated it, modelled and animated everything! Amazing work! We love to make authentic African content. Thus we created the heritage day effect where we celebrate African woman headwear. There are also the makaraba effect representing African sports fans and the Springboks Impi with the shield to show off our warriors. We want to share Africa with the world using digital experiences. AR is fairly popular, mainly Snapchat filters. Recently we've been seeing a lot of interest in AR effects on Instagram, too.
What advice would you give to the beginners in social media AR? How does the process of creating an effect should look like?
My advice for a beginner is to keep it simple. A lot of the most used effects are basic but really clever. Another thing would be to look at the gaming industry for tips concerning compression and making low poly look great. For example, a substance painter is a great tool for texturing or baking normal maps etc. For me personally, a great AR effect should tell a great story. People should want to share that story with others. I really am a fan of dual filter effects – the ones that engage users with both the front and the back camera. We did one effect like this with Jason from Friday the 13th in which when using the selfie camera you were Jason and through the back camera you could see his axe in a tree stump. It felt like a whole Halloween universe in one filter!
There is an ongoing discussion about which technology will be more important in the future: VR or AR. Pixel Chefs develops both, so we're curious about your opinion on that matter. How does the future of AR look like?
We think the future of technology is going to be very 'organic', if that makes sense: people interacting with the digital in natural ways, via speech, motion (motion sensors), touch etc. Wearables are definitely going to be a big thing. The lines between AR and VR are going to be blurred into an almost one and the same thing: Mixed Reality. These are both going to play a big role in our future and teach us things about our selves we never could imagine.
Kym, thank you very much for this interview! We hope to see much more of your amazing work!