How Movies and TV Series can benefit from Augmented Reality – Part 1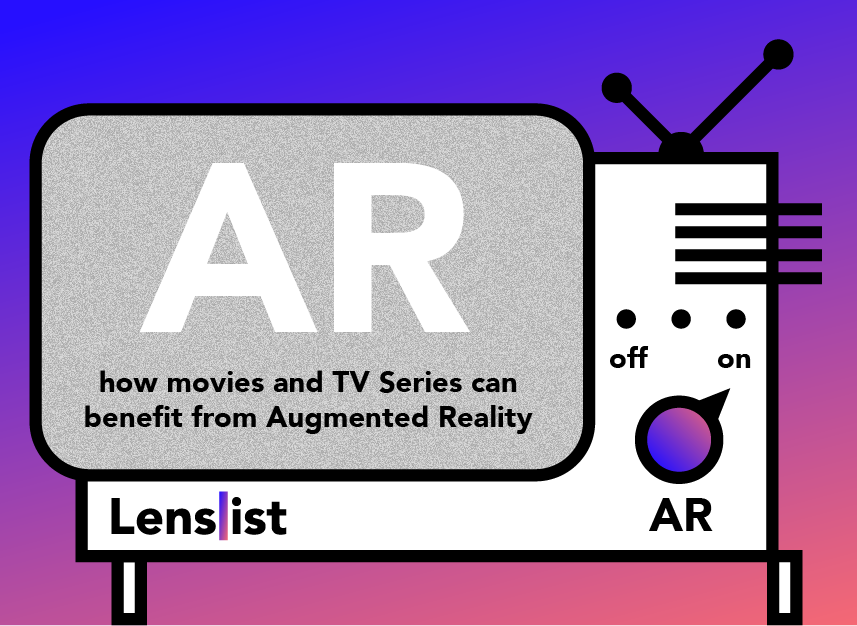 Two weeks ago we published an article explaining the synergy between AR and beauty industry (if you haven't read it, make sure to check it out here). Today we would like to take you on the journey through another industry that benefited greatly thanks to the AR Studio and Lens Studio opening 8 months ago – movies and TV shows. Augmented Reality offers more to these industries than it may seem at the first glance.
First of all, it is a great way to raise awareness about the movie/TV show itself as well as show the premiere dates without being too pushy. Lenses create 1:1 interaction with the brand and offer space to produce UGC, making sharing the branded content easy and comfortable for everyone.
Secondly, thanks to masks and portals, all users get a chance to immerse into the movie universe, making themselves a part of it, using just their mobile devices. Such activations personalize the experience in an efficient manner, while boosting brand loyalty and spreading awareness at the same time.
What is more, creating an effect with Facebook's AR Studio or Snapchat's Lens Studio allows all interested fans to use it with no external application needed. That means that users don't have to download or install any 3rd parties' software to get their AR experience, which makes their way to trigger your effect faster and more direct.
Next thing worth mentioning is the range of new possibilities that both Snapchat and Facebook are presenting to AR Creators and brands. With Shoppable AR Lenses, introduced by Snapchat in April this year, brands are given a great opportunity not only to present themselves, but also sell their merchandise directly within the application, which is basically hitting two birds with one stone. When it comes to Facebook Camera Effects one of the best ways to utilize lenses is to link the activation to a Messenger Chatbot. Doing so provides users with an even more meaningful experience as things like challenges, additional info on the show's characters and receiving notifications when the new episodes are about to air can be included. You will find such examples in the case study section below.
Movies
Avengers — Infinity War
For the premiere of Marvel's Avengers – Infinity War, several Facebook Camera Effects were created to give all the fans a possibility to put on the mask and use superpowers of their favourite heroes. Besides front-facing masks, functions such as 3D Models, Hand Tracking and Background Segmentation were showcased. You can learn more about the effects from this article
The Meg by OMD & Snapchat
For the premiere of The Meg movie, OMD teamed up with Snapchat to create an underwater World Lens. Using the segmentation method, user was teleported in the depths of the ocean where 75-foot-long shark Megalodon was waiting for the next victims. Worth noticing here is a fact that the technology used in this effect detects all obstacles on a horizon, making sure the shark can swim around them.
TV Shows
Stranger Things by Netflix
Created for the premiere of the 2nd season of Stranger Things, this Snapchat lens is probably one of the most sophisticated portals created so far. It allowed users to wander around Joyce's living room in order to explore various surprises hidden inside. That said, users were able to see and use alphabet painted on the wall or even go to the Upside Down if they were lucky enough. This lens has also featured a front camera effect that was mimicking Eleven's nosebleed.
Bieszczady by Lens That & Starcom
Przystanek Bieszczady is a very popular Discovery Channel series about one of the wildest areas of Poland: Bieszczady Mountains. With the third season kicking off, the producer, in a cooperation with Starcom and Lens That, decided to use Facebook Camera Effects to promote the document, becoming the first Polish show to take such a step.
Not only this, but the tree-face effect inspired by show's key visual – a Treant – is probably the first one ever, which is not a simple face filter, but an animated 3D model. It reacts to the facial expressions and a movement of the head and eyes, while opening a mouth triggers a movement of the other objects.
The Camera Effect was part of the bigger project – it was accessed via a Messenger Chatbot filled with challenges, additional info on show's characters and notifications when the new episode was about to air. Such activation is a great example of how TV channels can utilize AR effects on Facebook.
Westworld by HBO & Snapchat
Snapchat lens that transformed users into androids, known so well from the HBO show. Your Snapchat username was displayed as the "Host ID" and opening mouth triggered the effect that made your face split in quarters showing your true robotic nature. What is more, switching your camera allowed you to watch one of the drone hosts walking in front of you along with a quote from the show. The lens was also a reminder for all the fans that new episodes air every Sunday.
The X – Files by The Mill
The Mill collaboration with Facebook AR studio aimed to create out of this world effects for the new season of X-Files. The X-Files reboot was a great surprise for all the fans of the show and if it wasn't enough to start watching the show, they shocked us again with two new AR lenses. The first one turns you into an alien and lets you experience how it would be if they really walked among us. With the second effect, you can finally witness an UFO abduction just like agents Mudler and Scully do on a daily basis.
Lucifer by Lens That
This Facebook Camera Effect brings on the signature devil's horns, destroys naturally innocent face of a human and sets the surrounding on fire with special effects applied on the screen. It also gives the user a special power to blow things up, just by opening your mouth!
A part of this campaign was a Messenger Chatbot, providing users with a broadcast schedule, trailer, cast details, and a quiz to tell if one is more of an angel or a devil.
We hope you enjoyed the article and presented examples. If you are looking for more activations connected with Movie and TV industry make sure to go straight to Lenslist and type "Movie" or "TV" into the search engine. Stay tuned for our next post, where we will cover Fast Food and Restaurants industries!